Pixel Qi Wired/wireless D-Screen-Qi10 Companion Displays Outed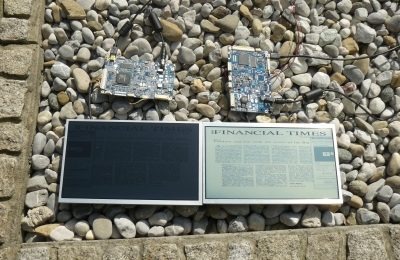 Pixel Qi already offer their 3qi multi-mode display as a bare panel for those wanting to upgrade their 10-inch ultraportables, but now the company has confirmed that Display Solutions AG have used their panels for a range of USB and wireless USB companion displays.  The Display Solutions d-screen-Qi10 pairs a 10.1-inch 1024 x 600 3qi display with the company's own d-screen-HYBRID driver board, which can be hooked up via USB, wireless USB or ethernet.
The first model will seemingly use a wired USB connection, taking advantage of DisplayLink's virtual GPU drivers, with all power for the display provided by the port itself.  In fact, it requires a miserly 1.5W while in use, and as with other Pixel Qi based devices can be used indoors in regular LCD mode or outdoors in a pseudo-epaper mode.
No word on pricing at this stage, but the first Display Solutions d-screen-Qi10 model will go on sale in October.  The company reckons it can be used not only with regular computers but with some smartphones as well.