PISTON Console FAQ brings slew of details ahead of pre-order shipments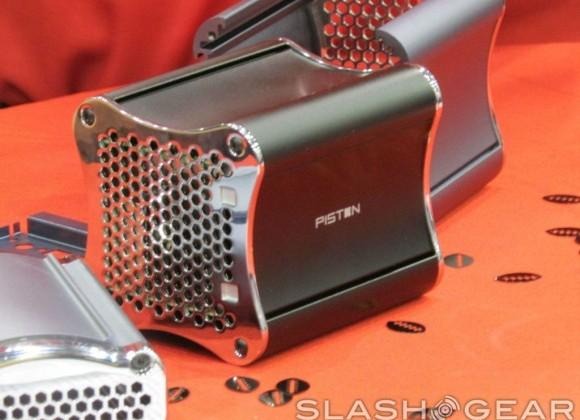 Xi3's PISTON Console, something many have referred to as the first Steam Box, went up for pre-order in March. While details on the console have been given in bits and pieces over the months, Xi3 has published a large round of FAQ on its upcoming console, covering questions ranging from hardware to support and back again, also offering additional clarity on Steam Box claims and its relationship with Valve.
Shortly after the device went up for pre-order earlier this year, Xi3's founder and President Jason A. Sullivan offered some clarity on the connection between Valve and his company, something that shed light on the topic but didn't squash speculation or talk of PISTON being the "Steam Box". In the faq, two questions related to this are addressed directly: "Is PISTON the Steam Box or not?" and "Does Xi3 have a relationship with Valve or not?"
Says Xi3 on the former question, as it has said in the past, it has never called its PISTON Console "the" or "a" Steam Box. Steam will be accessible with the gaming device, however, and so Xi3 says that "in this regard, PISTON could be considered the first commercially available Steam Box." The company hasn't yet answered whether PISTON will run SteamOS, however, saying only that it should be possible to run it on the console.
Beyond that, Xi3 talks again about the investment it received from Valve, in that it again mentions the reality of it, but hasn't yet provided any particular details, such as the nature or amount of the investment. The Steam Box/Valve questions aside, it goes on to address other inquires, including questions about hardware specs, peripherals, software, and such, all of which can be read on Xi3's website.
Those who pre-ordered the PISTON Console earlier this year will see their device shipping by November 15. Games will be included on the console, which won't be detailed until later this year, with Xi3 only saying that it'll be before Black Friday. We should be seeing some additional details soon, with Xi3 simply stating "Stay tuned" when asked what the PISTON Console looks like when it is turned on. As always, we'll keep you updated as additional information drops.
SOURCE: Xi3