Pioneer VSX-920-K, VSX-1020-K & VSX-1120-K 7.1 receivers get iPhone remote support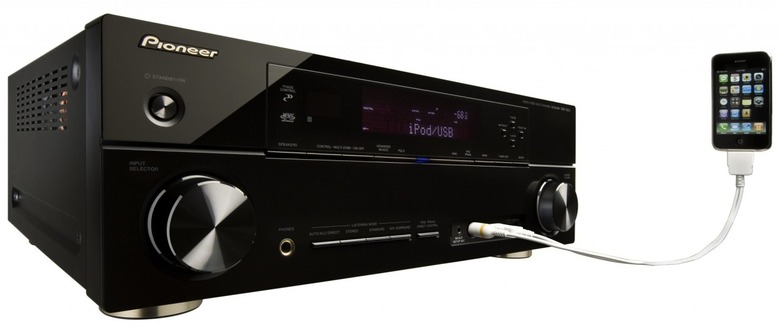 Pioneer certainly seem to love iPod touch/iPhone integration; their latest batch of A/V receivers are the third generation of models to include support for the touchscreen devices.  The Pioneer VSX-920-K, VSX-1020-K and VSX-1120-K each offer 7.1-channels of surround sound and can – via a USB hook-up – play back content from an attached Apple PMP; new to these models, however, is compatibility with the Pioneer's iControlAV App, that turns an iPhone or iPod touch into a touchscreen remote.  They also boast support for Bluetooth A2DP stereo audio streaming, to funnel music from any A2DP-compliant device.
All three models are 3D-ready, and have HDMI 1.4 ports (four on the 920-K, six on the 1020-K and 1120-K) and Dolby ProLogic IIz support.  An ethernet port not only grants remote iPod touch/iPhone control but internet radio support (though not on the 920-K).  As for power, the 920-K and 1020-K each have seven channels of 110W, while the 1120-K boosts that to seven channels of 120W.
The new Pioneer VSX-920-K and VSX-1020-K receivers will go on sale in May 2010, priced at $399 and $549 respectively; the flagship Pioneer VSX-1120-K will follow in in June 2010, priced at $749.  If you want Bluetooth A2DP support, meanwhile, you'll have to find an extra $99 for the Pioneer AS-BT100 dongle.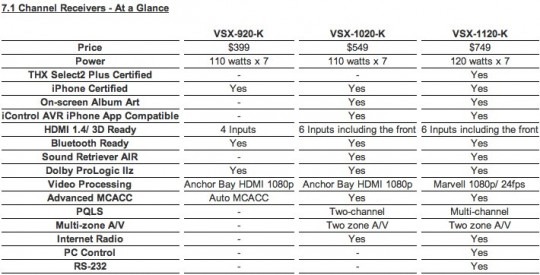 Press Release:
Pioneer Brings Unprecedented iPhone and iPod touch Control to New 7.1 Channel A/V Receiver Line

iControlAV App Available from the App Store, 3D Ready Feature for Next Generation Home Theater Experience

LONG BEACH, Calif.–(BUSINESS WIRE)–Consumers looking for the ultimate A/V control center with seamless iPhone and iPod touch integration will find it in Pioneer's new line of A/V receivers. The three new 7.1 channel, "Works with iPhone" certified receivers, the VSX-920-K, VSX-1020-K and the Pioneer-branded flagship receiver the VSX-1120-K, offer enhanced iPhone and iPod touch control and functionality, are 3D capable with the advanced version of HDMI and feature wireless Bluetooth audio streaming for Bluetooth-enabled devices1. Additionally, Pioneer today announced availability of its iControlAV App, which turns compatible iPhone and iPod touch into a fully functioning remote control for the Pioneer receiver, on the App Store.

"This year, with the addition of our new app and Bluetooth audio streaming, we expect to hold the leadership position in this category for the second consecutive year by continuing to provide iPhone and iPod touch users with seamless integration to their home A/V experience."

"Last year, the Pioneer line of A/V receivers set record growth in the under $500 price point. We know that the dramatic growth was a direct result of our enhancements to convenience and connectivity options expected from Apple users," said David Bales, marketing manager of audio products for the home entertainment division of Pioneer Electronics (USA) Inc. "This year, with the addition of our new app and Bluetooth audio streaming, we expect to hold the leadership position in this category for the second consecutive year by continuing to provide iPhone and iPod touch users with seamless integration to their home A/V experience."

iControl AVR App & Expanded iPhone Functionality

The 7.1 channel models deliver expanded iPhone functionality with the top two models featuring the Company's first app for their home entertainment products and Bluetooth Audio Streaming for wireless devices.

"Works with iPhone" Certification – The new line of 7.1 receivers are iPhone certified and allow for playback of content on an iPhone and iPod touch including, on-screen display of track data, album art, photos and video on a connected TV. With an included USB/ video cable, users can listen to their music, view photos and watch downloaded as well as stream audio and video such as YouTube and Rhapsody music services all while charging their Apple devices when connected to the receiver.

iControlAV App – Pioneer's first app compatible with their home entertainment products, iControlAV, provides iPhone and iPod touch users convenient integration of their devices with their home theater system. The free iControlAV App turns iPhone and iPod touch into a fully functioning remote control for the VSX-1020-K and VSX-1120-K Pioneer receivers. When the receivers are connected via Ethernet to an existing wireless router, the app allows users to wirelessly control their home theater receiver and includes graphical representations of these four controllable elements:

Control – Adjusts the main volume, mute, select and switch inputs including multi-zones as well as display audio/video status information with a slight touch of the screen.

Precision – Allows users to turn on/off two of Pioneer's proprietary sound enhancements, PQLS which achieves jitter-free signal transmission via HDMI and Phase Control which permits precise phase control of multi-channel speakers. Video tutorials on each technology are also included.

Balance – With a roll and hold motion users can adjust the output balance of their speakers for 360 degree sound leveling to match their present listening position.

Emphasis – With a tilt and hold motion users can adjust dialogue and bass levels of the center speaker and subwoofer for optimum clarity of soundtracks with dynamic vocals or video games with extra bass. The display additionally shows a graphic of the status of each speaker.

Bluetooth Audio Streaming – The full line of new models feature wireless Bluetooth audio streaming from any Bluetooth-enabled iPhone, iPod touch, Android™ platform, other smart phones or personal computer with an optional Bluetooth adaptor. The Pioneer branded AS-BT100 ($99), Bluetooth Adaptor, allows consumers to keep the phone close to them while they enjoy music through their home theater system.

iPhone Control Button – The VSX-920-K and VSX-1020-K feature a front panel button that transfers iPod navigation control and on-screen display from the A/V receiver's remote control back to the connected iPhone or iPod touch so users can easily and quickly navigate through their library of media files directly on the device.

3D Ready Features

As 3D technology is introduced to the mass marketplace, Pioneer has incorporated features into its line of A/V receivers that allow seamless integration into a 3D home theater system.

HDMI 1.4 – The latest HDMI version 1.4, provides more high definition connectivity options for consumers seeking compatibility with the latest audio and video formats. HDMI 1.4 allows for passage of the high data transfer rate required by the Blu-ray 3D specification as well as a new 3D specific command protocol. Additionally, the flagship VSX-1120-K features an Audio Return Channel, which allows a receiver to reproduce audio from a compatible TV's built-in tuner.

Dolby ProLogic IIz® Decoding – Audio performance is paramount in an A/V receiver, and all the new Pioneer receivers are equipped to decode new HD audio formats including Dolby True HD® and DTS Master® with the new Dolby ProLogic IIz height channel. For the ultimate home theater experience, Dolby ProLogic IIz identifies non directional audio cues that occur naturally in a surround sound mix. The appropriate elements of the signal are directed to front height speakers for an enhanced surround sound experience. Creating the depth and dimension of a lifelike soundstage, this speaker configuration is compatible with all 5.1 and stereo entertainment content, is ideal for gamers and may also complement a 3D video experience. The new technology provides new 7.1 speaker placement options for consumers as well as easier installation solutions. Additionally, the top two models feature Pioneer's proprietary Front Wide Mode which adds versatility and dimension to a 7.1 speaker arrangement.

Multi-Media Connectivity and Pioneer's Proprietary A/V Technology

Pioneer incorporated its proprietary audio enhancement technology that restores Bluetooth transmissions as well as advanced room calibration technologies into its 7.1 channel line.

Sound Retriever AIR – The VSX-1120-K and VSX-1020-K feature the new Pioneer-developed Sound Retriever AIR. Similar to Advanced Sound Retriever (ASR), Sound Retriever AIR restores critical audio data that is often removed from compressed audio files during the encoding process and for the first time, restores data from Bluetooth transmissions.

Internet Radio – When connected to a home network, users can enjoy thousands of Internet radio stations worldwide, ranging from music and news to sports and talk on the flagship VSX-1120-K and VSX-1020-K. Both models come with 24 preloaded preset stations, easy URL entry of personal favorites and optional keyboard entry through the front USB input.

Video Processing – Pioneer A/V receivers have a strong heritage as the ultimate in video processing, and this year is no exception. All receivers feature high performance video conversion to HDMI and 1080p video scaling to ensure the highest quality video reproduction from analog digital and lower resolution video sources. The VSX-1120-K also features a Pioneer-tuned Marvell® Qdeo™ video processor providing the highest quality video switching for superb clarity and accuracy that was only previously found in flagship Elite models.

Multi-Channel Acoustic Calibration – The VSX-1120-K is THX™ Select2 Plus certified to create the power and performance of the cinema in your home theater and utilizes high power discrete transistors for accurate, multi-channel amplification. Additionally, Pioneer's proprietary room calibration and sound tuning technology, MCACC, is utilized to analyze the room's speakers and optimize each one to balance out any room-induced acoustic inaccuracies. MCACC provides an optimal, customized audio experience in any room configuration. The VSX-1020-K and VSX-1120-K feature Advanced MCACC which adds a wider variety of room calibration enchantments including an adjustable 9-band EQ and on-screen graphic user interface.

Precision Quartz Locking System – The two top models feature the proprietary Pioneer Precision Quartz Locking System (PQLS) which utilizes the digital clock in the A/V receiver to exactly synchronize the signal passage from a compatible Pioneer Blu-ray player. This creates absolute synchronized and jitter-free playback of all advanced audio formats. The VSX-1020-K features two-channel PQLS for jitter-less CD playback while the VSX-1120-K additionally offers multi-channel PQLS for enhanced DVD and Blu-ray Disc playback.

All models are finished with a premium glossy, black. The VSX-920-K, VSX-1020-K will be available in May 2010 and the flagship VSX-1120-K will be available in June 2010.

Pioneer's iControlAV App is currently available for free from the App Store on iPhone and iPod touch or at www.itunes.com/appstore/.

It all began with a passion for music that Pioneer founder Nozomu Matsumoto hoped to share with the world. He started Pioneer in 1938 as a specialty speaker company, building products out of his garage. Today, Pioneer's Home Entertainment and Business Solutions Group continues Matsumoto's enthusiasm, developing award-winning audio and video home theater products including A/V receivers, Blu-ray Disc® and DVD players, and speakers. Long-standing partnerships and collaborations with the creative community have provided Pioneer unique insight in its quest to capture the purity of a movie or musical artist's original vision into its broad range of home entertainment products. The company's brands include Pioneer® and Elite®. More details can be found at www.pioneerelectronics.com.

1 Bluetooth audio streaming requires iPod touch (2nd generation or later), iPhone 3G or iPhone 3GS with iPhone OS 3.0 or later.