Why buy a big, expensive touchscreen car head unit when you're already carrying a big touchscreen smartphone in your pocket? That's the theory behind the Pioneer SPH-10BT, making its US debut at CES 2019 this week, and offering a simple – and safer – way to access your iPhone or Android device from the dashboard.
It's designed to slot into a single-DIN chassis, common in car dashboards for many years now. Rather than having a big display of its own, however – or folding one out, as we've seen many single-DIN solutions offer – it instead has an integrated smartphone cradle.
That can rotate, to hold the device in portrait or landscape orientation. Using Pioneer's Smart Sync app, the phone gets a driving-friendly interface with access to multimedia, navigation, and other features. The smartphone links to the head unit via Bluetooth, so that there aren't any dangling wires to get in the way.
Across the front there are six physical shortcut buttons. That offers easier access to switching between sources, to triggering voice control commands, and to loading a preset navigation app. There are also buttons for messages – including allowing the app to read out incoming messages – and phone calls, together with a quick access key to bring up the Pioneer Smart Sync app itself.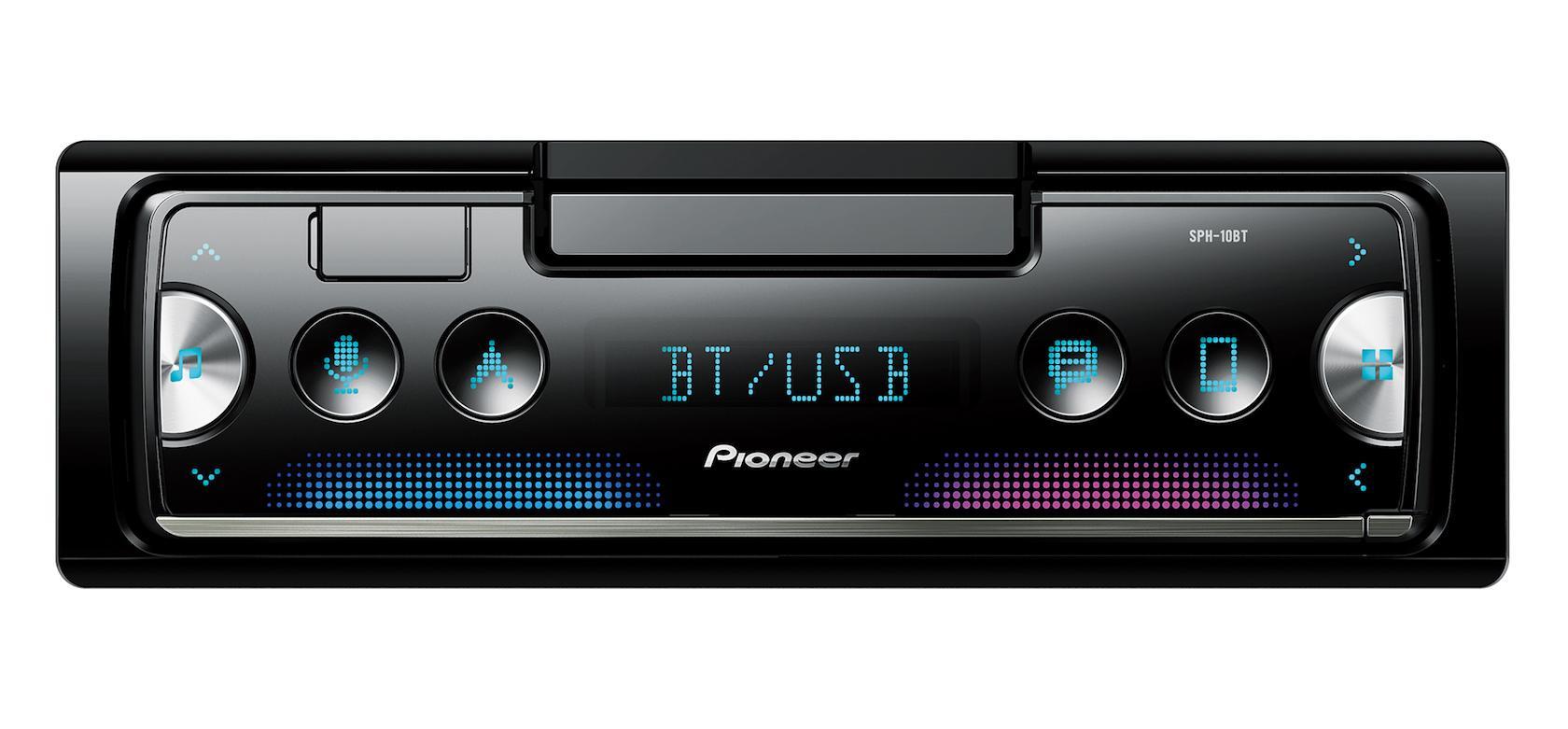 The phone interface, meanwhile, is customizable. That way it could be changed to match the lighting in the car. Alternatively, it can play a full mix of your music complete with "DJ-inspired effects" and a virtual light show.
If you've got a set of Pioneer's ND-PS1 rear parking sensors, they'll link with the SPH-10BT too. In that case, you'll not only get audio warnings if you're about to reverse into something, but on-screen graphics on the phone as well.

With smartphone apps like navigation so commonly used now, and UI projection systems like Apple CarPlay and Android Auto increasingly available in new vehicles, a common question is why automakers aren't installing phone mounts in their dashboards as a matter of course. The usual response is that doing so might be considered encouraging driver distraction, with all the potential legal liabilities that come along with that risk.
Indeed, Pioneer is clear that you shouldn't be using the SPH-10BT if it's a distraction from the road around you. That may be more of an issue depending on where the head unit actually mounts in the dashboard. If the DIN chassis slot is positioned low down in the center console, it could be more ergonomically awkward.
That will obviously depend on what car you have, but if you're curious to test it out there's not long to wait. The Pioneer SPH-10BT will pull up in the US come February, with pricing expected to be $150.