Pioneer NavGate HUD Launches With On-Windshield Navigation Projection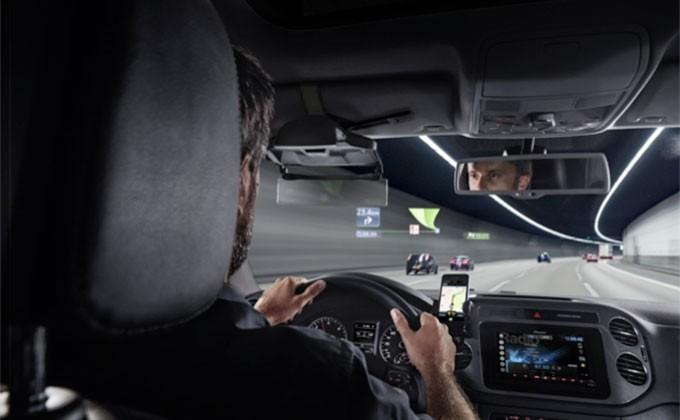 Pioneer has announced the launch of its much-anticipated NavGate HUD, a head-up display for drivers that brings a positively science fiction-esque reality to the every day driving experience. The system works using a small projector that clips to the sun visor, projecting at the windshield in what is the equivalent of a 30-inch display.
The idea behind the HUD is that it will allow drivers to keep their eyes on the road even when consulting their navigation app, something that isn't possible when using a tablet or smartphone. This is accomplished using a DLP projector that Pioneer says transmits both high contrast and deeply saturated colors, which the driver attaches to his or her sun visor.
The image is projected onto the windshield, and the resulting image appears to be a 30-inch display positioned about 6 feet in front of the driver along the horizon. The NavGate HUD is compatible with both the iGO primo and CoPilot smartphone apps, using them to display hazards, points of interest, and instructions for navigation.
Said Pioneer Europe's Car Product Planning Manager Geert Verhoeven: "Two essential elements for driving are having a clear view on the road and knowing where you're going. Our NavGate HUD has been designed with both of those ideas in mind, ensuring drivers navigate without losing focus, keeping distractions to a minimum. As it's an aftermarket device, the NavGate HUD mounts right onto the car's sun visor and can easily be removed for theft protection. Its competitive price-point will open up this innovative technology to a broader audience."
Says Pioneer, work done with the NavGate HUD has included ensuring that it doesn't pose as a distraction, making it a safety choice rather than a hazard. The system will be released next month at all Pioneer car audio dealerships, with pricing not yet having been announced.
SOURCE: Pioneer