Pioneer DDJ-ERGO-V DJ controller makes your mix flashy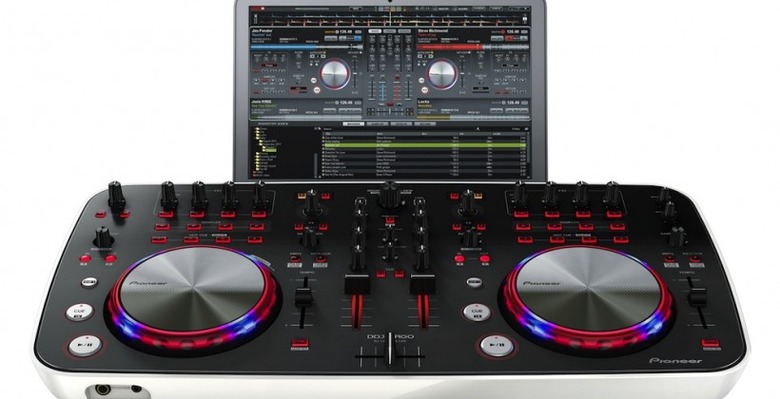 Pioneer continues to polish its virtual DJ controller line-up, with the latest DDJ-ERGO-V model packing so many LEDs you could probably outshine a half dozen glitterballs. Hooking up to your PC or Mac via a single USB connection, the DDJ-ERGO-V offers a pair of 115mm controllers, an integrated audio interface, the ability to control up to four decks from one unit, and various blinking light patterns to show you how well you're doing on your mixing, beat matching and more.
For instance, Blue LEDs on the jog wheels show how close the mix phase is, pulsing more strongly when you're closer in pitch. The channel fader lighting, meanwhile, match track beat with their flashing as well as showing output levels by their brightness. There are also dedicated controls for loops, filters and sample playback, while ports include a MIDI output, microphone input and line-out. The angled physical design means you can slide your laptop keyboard underneath and keep the overall footprint low.
The Pioneer DDJ-ERGO-V DJ Controller is available now, priced at £429 ($671). Buyers get a copy of Atomix Productions Virtual DJ Limited Edition in the box, though the controller should support other apps as well.