Pioneer BDP-140 3D Blu-ray Player now available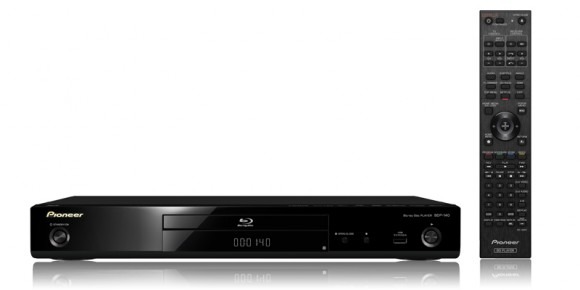 Remember Pioneer's announcement of their trio of 3D Blu-ray players back in September? Well, the entry-level BDP-140 is now available for purchase on Pioneer's own website for a manufacturer's suggested retail pricing of $299.99. This latest 3D Blu-ray player from Pioneer includes the ability for audio and video streaming from Pandora, YouTube, and Netflix, as well as having the option to play audio and video from USB and DLNA sources. Now, thanks to Pioneer, you can watch your movies in Blu-ray high-definition AND in 3D.
To refresh your memory, the Pioneer BDP-140 Blu-ray Player supports the latest and greatest high-quality formats including Dolby TrueHD and DTS-HD Master Audio for crisp movie viewing, and Super Audio CD (SACD) for music playback. Furthermore, the BDP-140 has the ability to upconvert standard definition sources to 1080p resolution for all the full-HD displays out there. The BDP-140 also offers 3D video output with the most up-to-date HDMI 1.4a spec.
Last but not least, Pioneer's completely free iControlAV2 App turns various smartphones and tablets into remote controls for the BDP-140. When your Blu-ray player is connected via Ethernet to a wireless router, the app enables users to have basic functions over the player. The iControlAV2 app is available for the iPad, iPhone, iPod touch and for select Android devices. Get your BDP-140 now at Pioneer's own website.
[via Pioneer]