Pioneer BCS-717 414 313 and 212 Blu-ray Cinema Systems Make you want to Adopt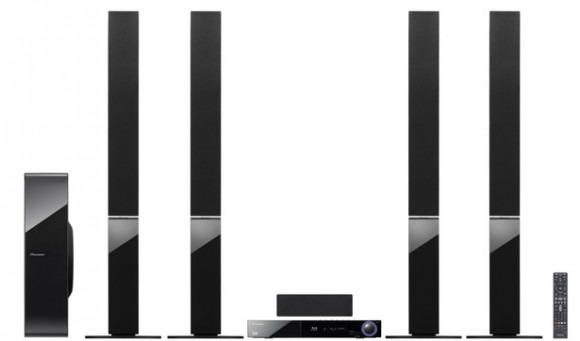 While Blu-ray has been out for quite a while now, we're still seeing businesses across the board continue to release videos on both the newest high quality medium AND the slightly older and lower quality plain ol' DVD format. Believe it or not, there are quite a few people on the planet still having yet to switch over to the Blu-ray world for more than a couple of reasons – the continued production of DVDs being one of them. What Pioneer is doing here today is making quite a grand swipe at making us want to switch over with four, count them, FOUR new 5.1 Blu-ray home cinema systems.
Each of these systems is different but the same, if you get my drift, each one prepared for a different cinema experience seeker. There's two slightly more expensive flagship systems called BCS-717 and BCS-414. These systems consist of four large and tall speakers with a separate center speaker as well as a slim subwoofer. The other two systems are slightly less expensive, called BCS-313 and BCS-212 they use compact satellite speakers and a much larger subwoofer speaker for the bass.
Each of these four systems have the same 180w output on each of their speakers, the subwoofer in both cases reaching 200w. All four systems also feature a high gloss acrylic outer coating and a lovely blue glowing light around their volume dials. Finally, each of the four units feature Dolby TrueHD and DTS-HD audio plus 1080p 3D Blu-ray playback so you'll be able to play whatever the newest films throw at you.
The two higher-end models come with an iPod/iPhone cradle for easy access to your favorite tunes as well as Wi-fi connectivity for all your online video exploits. These units will cost you anywhere from $500 to $830 USD – go grab em all, just for fun!