Pioneer AVIC-F car entertainment - voice recognition, Bluetooth & XM radio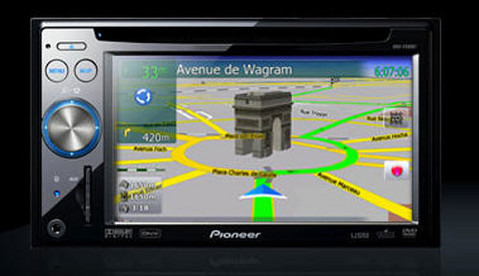 Pioneer have released a number of high-end in-car entertainment systems for their AVIC-F range.  The three models – AVIC-F700BT, AVIC-F900BT and Premier branded AVIC-F90BT – all feature XM and satellite radio compatibility, Bluetooth with conversational voice recognition that can be used to control navigation, voice control of a connected iPod and a 5.8-inch WVGA touchscreen.  The latter two models also have DVD playback and a built-in MSN Direct tuner.
The voice control is particularly clever.  Rather than rely on preset commands which a user must memorise, the three ICE units can recognise natural speech; therefore, you could say "I want to listen to some Britney Spears" and, after briefly laughing at you, the AVIC-F will locate some among its playback options – CD, DVD, iPod, connected USB storage or SD card.  The same technology is used for handsfree cellphone dialling, with the system giving verbal options for mobile, home or business numbers under the same contact.
Sound itself is handled via Pioneer's Supertuner IIID AM/FM tuner, XM and SIRIUS Satellite Radio and HD Radio connectivity, three sets of RCA outputs and 50 Watts X 4 high power amplifier.
Of course, just as with the functionality, the pricing is high-end too.  Pioneer's MRSP for the AVIC-F700BT, AVIC-F900BT and AVIC-F90BT are $850, $1,100 and $1,200 respectively.  They're expected to launch in June 2008.
Press Release
Pioneer Advances Beyond Navigation with Launch of AVIC-F Series

New Pioneer Products Offer Consumers Enhanced Navigation and Entertainment Features Paired with Sophisticated Voice Control

SAN DIEGO –(Business Wire)– Apr. 19, 2008 Pioneer's commitment to providing consumers with the ultimate in-car entertainment experience has led to three new product offerings that go beyond the typical navigation system. The Pioneer AVIC-F700BT, AVIC-F900BT and Premier branded AVIC-F90BT combine a multitude of functional entertainment capabilities with advanced navigation features that fit the lifestyle of today's on-the-go consumers. The on-dash AVIC-F500BT, recently unveiled at the 2008 Consumer Electronics Show, joins the same elite family of in-dash AVIC-F series navigation systems.

Each of the highly sophisticated in-dash navigation systems enable users to link and control their personal devices. Apple iPod(R) connectivity, Bluetooth(R), MSN(R) Direct, HD(R) radio, XM(R) and SIRIUS(R) Satellite Radio, single CD, DVD video playback and compressed audio and video playback through USB and SD memory devices are among the players' numerous capabilities. Additionally, each unit offers an advanced conversational voice recognition system for hands-free dialing of compatible Bluetooth enabled cell phones and control of an entire music collection on iPod players.

"Pioneer's AVIC-F series navigation systems are the ideal solution for millions of drivers who want an in-car product that can be easily integrated with other mobile personal devices, whether it is an iPod or Bluetooth enabled cell phone," said Larry Rougas, vice president of marketing and product planning for the mobile business group at Pioneer Electronics (USA) Inc. "These offerings create a higher level in-car experience with navigation, entertainment and voice recognition capabilities – beyond what anyone will find on almost all current standard navigation systems in the market."

Beyond Voice Control

A focal feature of all three systems is the highly sophisticated voice recognition feature collaborated with VoiceBox Technologies, allowing users to control connected iPod players and compatible Bluetooth enabled cell phones by voice. In addition, the systems differentiate from others on the market with features including conversational commands and intent recognition.

The navigation systems analyze every day conversational commands to initiate music playback and phone calling functions. Users can simply say, "Let's hear artist Usher" or "I want to listen to artist Chris Brown," to play back songs from specified artists in their iPods. Users can request music using the artist name, album name, playlist name and music genre.

The AVIC-F Series systems also allow conversational elements from the user's speech such as stumbles and pauses without failing the command. For example, when the user says, "I want to, ah, play artist, um, Black Eyed Peas," the system distinguishes the command phrase from the extra unwanted words to perform the desired function.

In the hands-free phone mode with a compatible Bluetooth enabled cell phone, the system utilizes intent recognition. From a command such as, "Call Robert Smith," the AVIC-F systems can identify the contact without specifying the category it is stored in the phone. These units will prompt users with additional information by responding, "I have three numbers for Robert Smith – home, mobile and office. Which would you like to call?" The user can then provide the additional information without restating the command.

Beyond Entertainment

The AVIC-F navigation systems simultaneously operate as high-end audio and video entertainment sources. Each unit feature a 5.8-inch high resolution WVGA touch panel display which users can easily access various forms of entertainment. The AVIC-F700BT starts with a single CD/CD-R/RW playback mechanism while the AVIC-F900BT and AVIC-F90BT are further equipped with CD/CD-R/RW/DVD/DVD-R/RW video playback, capable of reading MP3, WMA, iTunes AAC, Wave, DivX(1) and MPEG4(1) files.

Each unit also includes a USB interface for quick connection to iPod music players, portable media players and USB memory device. For extra convenience, SD memory filled with additional Points of Interest information or compressed audio and video, slides directly into the SD card slot located in front of each unit. When any external device is plugged in, the systems will instantly recognize the source allowing users access and control through the touch panel display and/or voice control (iPod only). Pioneer also added a mini-jack A/V input on the face of each unit for immediate connection to other portable devices, such as camcorders and video players.

As high-end source units, each system is equipped with its Pioneer's unprecedented Supertuner IIID AM/FM tuner, XM and SIRIUS Satellite Radio and HD Radio connectivity, three sets of RCA outputs and 50 Watts X 4 high power amplifier.

Beyond Navigation

Each system utilizes flash memory to obtain quicker mapping information and allow an "always on" navigation state. The comprehensive map database from Tele Atlas(R) covers the entire United States, Canada, Alaska and Hawaii enabling users to route to millions of destinations. The database includes more than 12-million points of interest (POI), for destinations such as gas stations, ATMs, hotels and restaurants which can be easily searched either near a current location, or close to a specified destination. Categories of POIs can be overlaid onto the map for quick identification further enhancing the navigation experience. On the AVIC-F900BT and AVIC-F90BT model, specific landmarks are illustrated using 3-dimentional icons.

As an added benefit, each system employs a Text-to-Speech (TTS) function to further improve its assistance capabilities. Unlike some navigation systems, the AVIC-F models will announce street names in addition to turning instructions ensuring users are warned ahead of time. Drivers will hear, "turn right on Broadway," instead of simply prompting, "Turn right ahead."

The AVIC-F900BT and AVIC-F90BT products also feature MSN(R) Direct connectivity. With a paid MSN subscription(2), users will receive updated traffic, weather forecasts, gas prices and movie time information for more than 100 cities across the United States and Canada. At a glance, traffic incidents and traffic flow are displayed directly on the map indicated by different colored lines and traffic icons. The navigation systems automatically integrates with the MSN Direct data allowing users to route to gas stations and movie theaters of choice with a simple touch of the screen.

As an added benefit of the integrated SD card slot, Pioneer's systems are ready for updates and additional POI information. Using a PC application from Pioneer, users with compatible PCs can create and store new points of interests onto an SD memory card for the navigation system to reference. This is especially helpful when users want to add their personalized POIs.

Beyond Integration

The Pioneer AVIC-F navigation systems can be fully integrated into nearly any car with a double DIN dash opening. With up to 32,768 customizable illumination colors, users can establish a refined factory OEM look and feel.

For safety and convenience, each unit is equipped with a camera input and back-up trigger. These systems will automatically display images from a separately purchased camera when the vehicle is shifted into reverse. The feature is extremely useful in large automobiles where it can be difficult to see behind the vehicle.

The Pioneer AVIC-F700BT, AVIC-F900BT and Premier AVIC-F90BT will be available in June 2008 for a suggested price of $850, $1,100 and $1,200 respectively.

Pioneer's Mobile Entertainment Division is known for offering the kind of in-car products that make driving more enjoyable by offering high quality audio and video, advanced connectivity and ease-of-use. Its focus is on the development of new digital technologies including audio video, navigation and satellite radio, while maintaining its strong heritage in products for car audio enthusiasts and sound competitors. The company markets its products under the Pioneer and Premier brand names. When purchased from an authorized dealer, consumers receive a limited warranty for one year with Pioneer products and two years for Premier electronic products.

Pioneer Electronics (USA) Inc. is headquartered in Long Beach, Calif., and its U.S. Web address is http://www.pioneerelectronics.com. Its parent company, Pioneer Corporation, is a leader in optical disc technology and a preeminent manufacturer of high-performance audio, video and computer equipment for the home, car and business markets. The company focuses on four core business domains including Blu-ray Disc and DVD, display technologies, navigation and Digital Network Entertainment(TM).

(1) DivX and MPEG4 playback not available through USB and SD card slot.

(2) MSN Direct is a subscription service that delivers traffic conditions, fuel prices, weather data, and more to personal navigation devices to over 100 cities in the United States and Canada. After the initial trial subscription included with the AVIC-900BT and AVIC-F90BT, an optional subscription service fee is required for MSN Direct services. -0-

               Pioneer AVIC-F Series Navigation Systems

———————————————————————-

———————————————————————-

Features AVIC-F700BT AVIC-F900BT Premier

AVIC-F90BT

———————————————————————-

3D Landmark Icon – Yes

———————————————————————-

Built-in MSN Direct Tuner – Yes Yes

———————————————————————-

5.8-inch WVGA LCD Touch Panel Yes Yes Yes

———————————————————————-

Built-in Bluetooth Technology Yes Yes Yes

———————————————————————-

Conversational Voice Recognition Yes Yes Yes

for Bluetooth

———————————————————————-

Audio/Video Direct Control for Ipod CD-IU230V CD-IU230V Cable

required required Included

———————————————————————-

Conversational Voice Recognition Yes Yes Yes

for iPod

———————————————————————-

DVD Video Playback – Yes Yes

———————————————————————-

iTunes AAC/MP3/WMA Playback on DVD – Yes Yes

———————————————————————-

iTunes AAC/MP3/WMA Playback on CD Yes Yes Yes

———————————————————————-

iTunes AAC/MP3/WMA Playback from Yes Yes Yes

USB Memory Devices or SD Memory

Card

———————————————————————-

Back-Up Camera Ready Yes Yes Yes

———————————————————————-

XM and Satellite Radio Capability Yes Yes Yes

———————————————————————-

HD Radio Capability Yes Yes Yes

———————————————————————-

Hi-Voltage Preouts – - Yes

———————————————————————-

50W x 4 High Power Amplifier Yes Yes Yes

———————————————————————-

Availability June 08 June 08 June 08

———————————————————————-

Suggested Price $850 $1100 $1200

———————————————————————-