Pink Nintendo 3DS announced with nintendogs in tow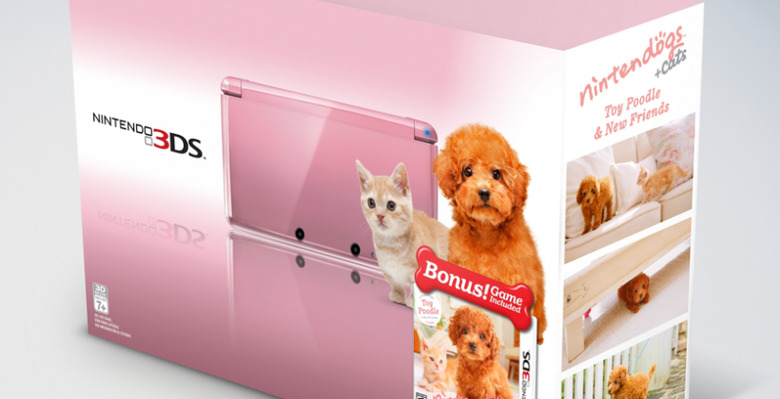 For a product that was in a bit of trouble for having low sales the first few months it was out, Nintendo's 3DS is certainly continuing to release the iterations, today's announcement on a special packaged game and color combination, namely pink! The Nintendo 3DS in Pink joins the already available Flame Red 3DS bundled with Super Mario 3D Land and the also just announced Hyrule-toting Zelda edition of the gaming system, this team taking on the United States market this holiday season. And what's better than pink Nintendo 3DS? A pink Nintendo 3DS with a puppy game in the box!
You'll either be choosing to grab a box with nintndogs + cats: French Bulldog and New Friends, or nintendogs + cats: Toy Poodle and New Friends. Goodness gracious that's a long name for a video game. You'll be much better off picking up one of these for your feminine chile than picking up a real puppy, and of course you've always got the excuse for picking up a video game system in "it'll improve hand-eye coordination." And what better way to do it than with 3D?
There's also a couple other Nintendo holiday-offered packs including a Nintendo DSi XL system in Metallic Rose or Midnight Blue boxed up with Mario vs Donkey Kong: Mini-Land Mayhem! for $169.99, and a Wii remote in Zelda gold with a CD with Zelda music and the game Legend of Zelda: Skyward Sword for $69.99. It appears that Nintendo is making an effort to bundle up for the holidays, one way or another. Stay warm!