Pink iPhone 3G on eBay sparks rumors: unlikely to be sign of things to come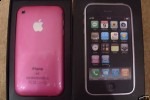 You can tell it's a relatively slow news day, when a pink iPhone 3G on eBay causes so much drama.  The handset, which has a buy-it-now price of £400 ($582), is advertized as being possibly "the only pink iPhone 3G on the market", and together with the proximity to MacWorld has got several people foaming at the thought of a new color option.  Has Apple really taken a leaf out of the RAZR playbook?  It seems unlikely, with almost identical aftermarket replacement back plates – in not only pink but gold, red and other colors too – being available elsewhere on eBay.
Colorware had been dismissed as a possible explanation, as the text has been reprinted on the back of the smartphone.  However while the eBay seller does describe the pink section as "not a case or cover it is the actual body", he doesn't go so far as to suggest it's not a third-party replacement.
This looks not so much fake as just misleading, if you're going to use it as a springboard to predict imminent new color iPhone 3G handsets.  Plus for the current (relisted) price of £250 (reserve not met) you're paying over the odds for an 8GB Apple handset with what's not even a particularly pleasant shade of pink.