Pierre Cardin PC-729 UMPC lands in China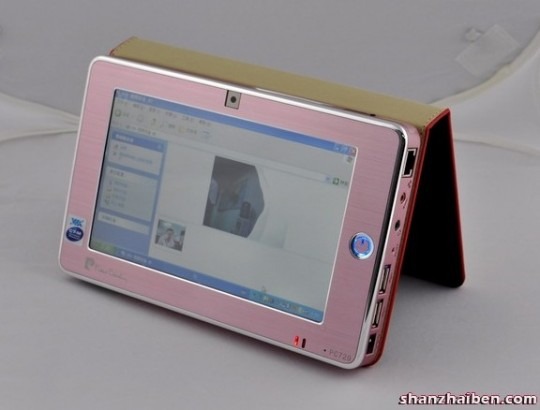 Chalk another one up to bizarre branding: you're looking at the Pierre Cardin PC-729 UMPC, the handiwork of Shenzhen Industries, and while you might assume the Chinese firm have "borrowed unofficially" the designer branding, in actual fact this is the result of a legitimate licensing deal.  The PC-729 has a 7-inch 800 x 480 WVGA resistive touchscreen, 1.2GHz VIA C7-M processor and 16GB SSD, and is set to hit Chinese shelves priced at 2980 yuan ($436).
Your money gets you 1GB of RAM, a 16GB SSD (8/32GB optional), WiFI and a webcam, together with three USB ports, an ethernet port and optional GPS, Bluetooth and 3G.  There's also an accelerometer used to automatically rotate screen orientation, and a 3,000mAh Li-Poly battery apparently good for up to 2.5hrs usage.
The whole thing measures 199 x 127 x 21 mm and weighs 691g; while there's no VGA port, a USB to VGA adapter will apparently be included.  OS is Windows XP and Shenzhen also throw in some handwriting recognition apps too.  No word on when it will launch in China, but we probably shouldn't expect this particular designer device to head over to the US or Europe.
[via Cloned In China]