Picasso painting x-ray reveals hidden landscape artwork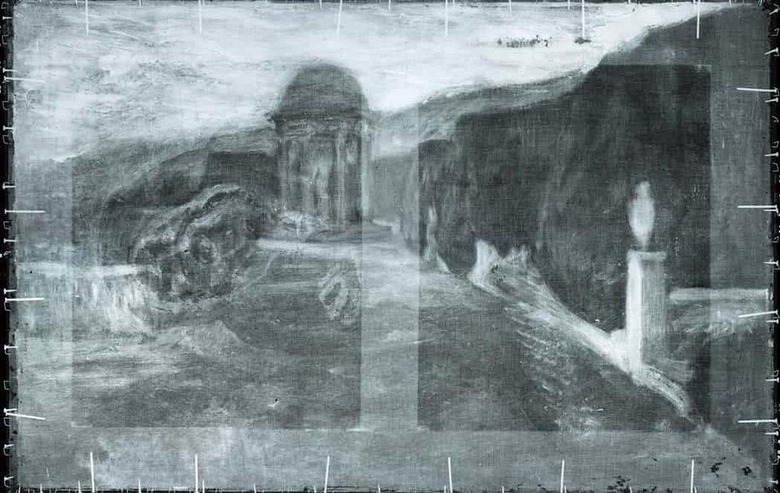 Researchers have used a non-invasive tool to reveal artwork hidden behind Picasso's "La Misereuse Accroupie" painting, a new study reveals. The hidden image is of a landscape; the artist is unknown. The x-ray scan, which was used to find the hidden image, also reveals earlier iterations of Picasso's painting, helping shed light on the process that ultimately resulted in the final artwork.
The painting, which is known in English as "The Crouching Beggar," was created by Picasso in 1902. Fast-forward to 1992, when conservators spotted texture irregularities hinting at the existence of different artwork behind the paint. A careful look revealed different colors in the paint's cracks, finding that the canvas was once used for something else, then reused for "The Crouching Beggar."
An x-ray of the painting has revealed that the hidden image is of a landscape. Northwestern University researchers have taken the discovery to a new level via x-ray fluorescence, which looks at individual pigments. Some pigments are only present in one layer, making that particular layer of work visible but not the others.
Via this, the researchers are able to see what existed before the final image — the landscape — as well as Picasso's early work on "The Crouching Beggar." According to researchers, the artist used some of the shapes from the landscape to plot out the final painting.
The landscape is said to show the Parc del Laberint d'Horta located in Barcelona. It's not known who painted the landscape, and it's possible it could have been painted by one of the many young painters who were known to have painted that scene. This isn't the first time researchers have used technology to find artwork hidden behind Picasso paintings.
SOURCE: The Guardian