The "real Photoshop" experience for iPad may not quite be what graphics pros are hoping for, with beta testers of Adobe's upcoming app warning that some expected features are still missing. Adobe announced Photoshop CC for iPad at its annual Max conference in 2018, promising to take advantage of the hardware capabilities and stylus support in Apple's iPad Pro tablets.
"Redesigned for a modern touch experience, Photoshop CC on iPad will deliver the power and precision of its desktop counterpart," Adobe said at the time. "Photoshop CC on iPad will let users open and edit native PSD files using Photoshop's industry-standard image-editing tools and will feature the familiar Photoshop layers panel."
"This is real Photoshop on the iPad," Pam Clarke, product manager for Photoshop at Adobe, insisted, "the same underlying code and algorithms you rely on every day, with a reimagined user experience to take advantage of the uniquenesses of the device."
The app was promised for 2019, and beta testers have been playing with a pre-release version codenamed "Rocket" this year, Bloomberg reports. According to Adobe's chief product officer of the Creative Cloud division, Scott Belsky, Photoshop CC for iPad is still on track for general availability sometime this year. However insiders with pre-release access suggest it might not include everything Photoshop users are hoping for.
"Feature-wise, it feels like a beefed-up cloud-based version of their existing iPad apps and not 'real Photoshop' as advertised," one tester, who declined to be named, told the site. Among the issues are missing or less advanced versions of features such as filters, the pen tool, custom paintbrush libraries, RAW editing, smart objects, and more. That's functionality Photoshop CC users on the desktop are used to tapping into, and which they might expect to be able to continue using while on their iPad Pro.
According to Belsky, the feature set that "Rocket" testers have been using isn't the same as what will be available in the final release. Even so, he concedes that some features Photoshop pros might assume they'll find in the iPad app won't necessarily be present. Instead, Adobe plans to build out functionality over time.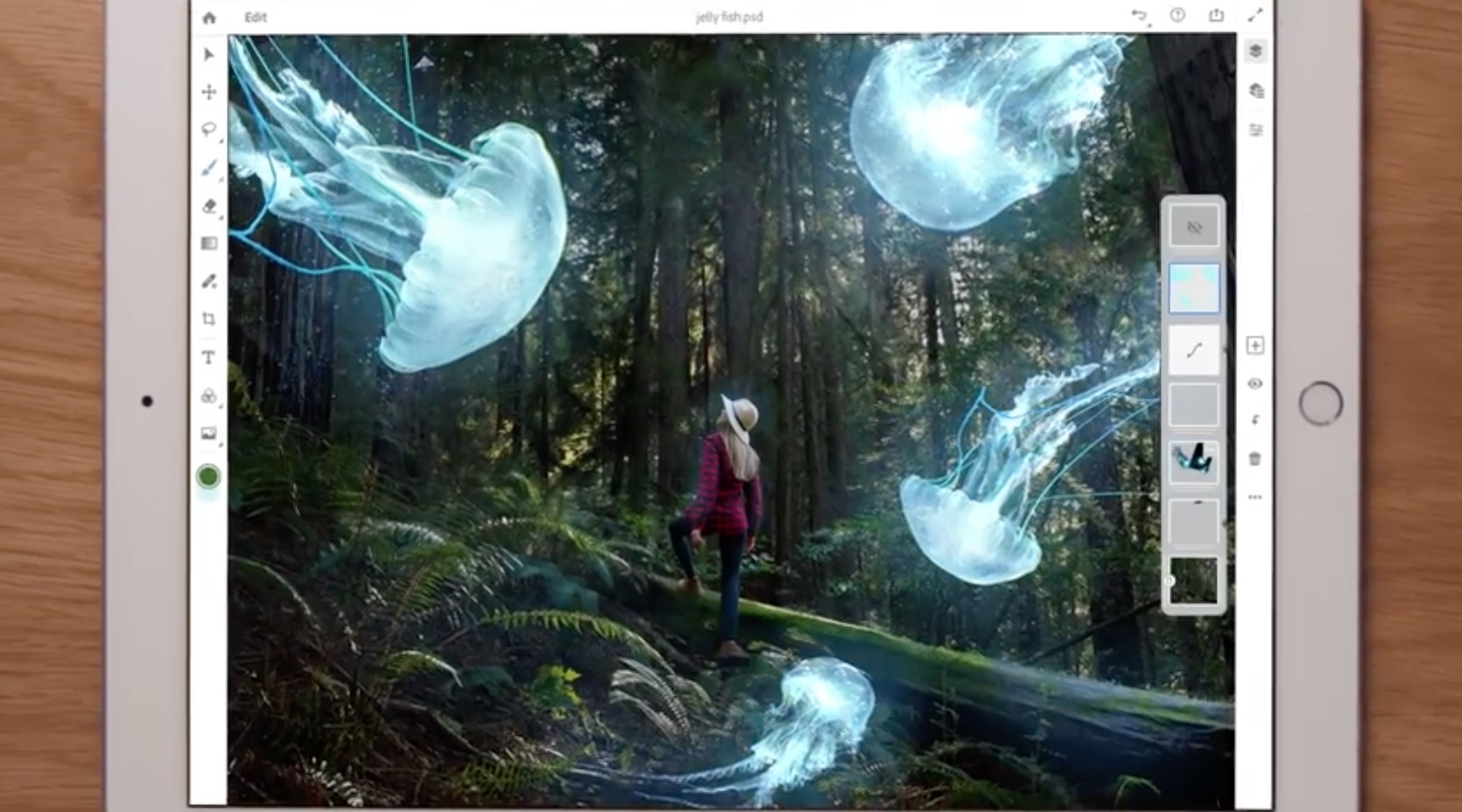 Given Photoshop has had more than two decades to mature on the desktop, that the iPad version would need time to catch up isn't too surprising – even if, as Adobe says, the two share a common underlying architecture. Nonetheless, it does raise questions about whether the seamless workflow Adobe is promising will be quite as useful as it sounds.
One of the advantages of the app will be that "you will be able to start your work on an iPad and seamlessly roundtrip all of your edits with Photoshop CC on the desktop via Creative Cloud," Adobe promised last year. Edits made on iPad will also be done in a non-destructive way. Still, if you try to pick up on a Photoshop project-in-progress started on your desktop, there's certainly the possibility that the editing tool you want to use won't actually be available in Photoshop CC for iPad.
Exactly which features will and won't be present when Photoshop CC for iPad launches we'll just have to wait and see. Adobe could well be waiting for broader feedback after that point to see which tools are most-requested from actual users, as it works out its update roadmap. At the same time, there'll also be new features unfamiliar from Photoshop CC on the desktop, which take specific advantage of the tablet form-factor.