PhoneTag Voicemail to Email Transcription SlashGear Review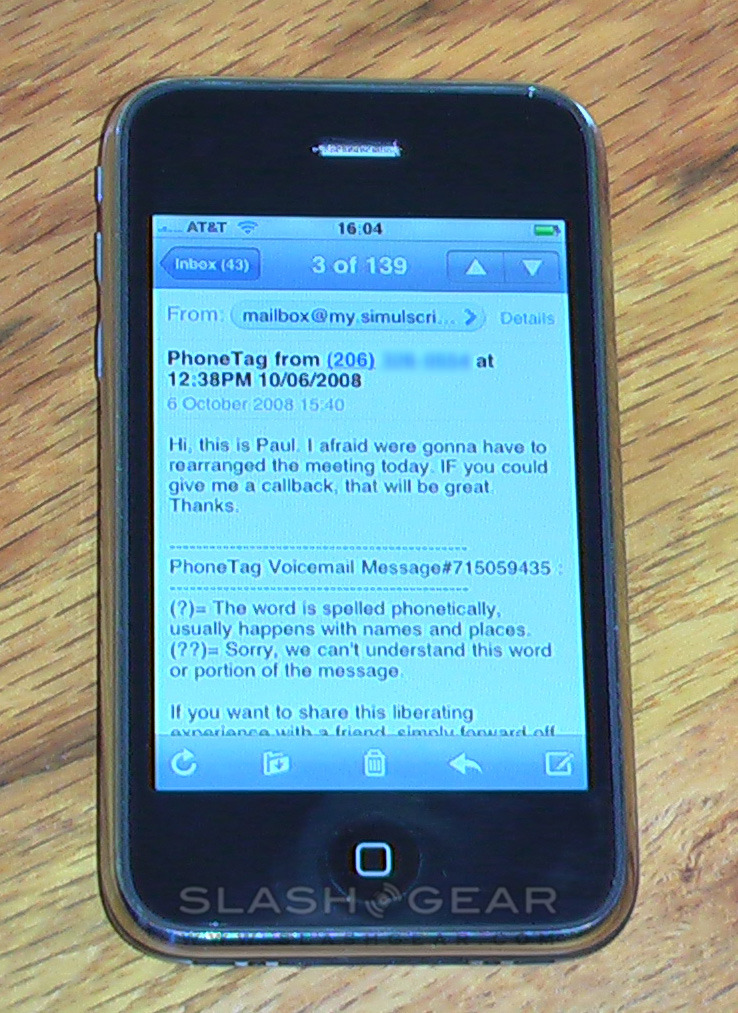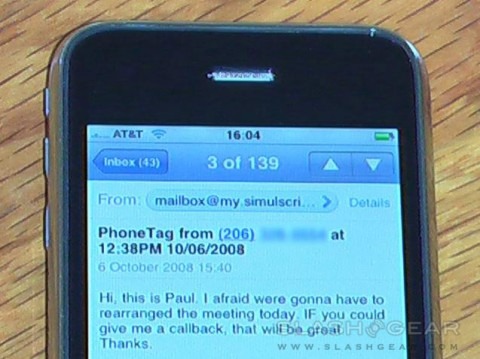 The concept is simple: rather than missed or ignored calls going to your carrier's voicemail service, they get shuttled to PhoneTag's instead.  There, the message is transcribed and sent to you as either an SMS or an email.  If you choose the latter, the original recording is also attached as an audio file.
There are some usability tweaks possible, but that's the basic system.  Setup is straightforward – once you sign up online, PhoneTag send you an email with a personalized number to dial on your phone.  That automatically activates the service and sets your redirect to the PhoneTag voicemail.  Switching it off is another, shorter number.
You're given a voicemail dial-in number, to manually listen to messages, but the expectation is that you'll only ever use it to personalize your greeting.  PhoneTag also have an online inbox, which allows you to tweak system settings – the type of audio file sent as an attachment, whether you want an email or an SMS – as well as browse through old messages.

We've been using PhoneTag on an iPhone 3G, where one side-effect is that the Visual Voicemail no longer works (as you're no longer using AT&T's system).  We'll wager that you won't miss it, though; thanks to push email we knew exactly when a message had been left and, even better, what it said.  Picture that when you're in a meeting, or in class, or during a meal (anytime when actually using your phone would be frowned upon, in fact).
Through the online interface you can also upload the contents of your phonebook; then, rather than the number of the contact coming through in the email subject line, their name does.  The email From: field is also from that contact's email address, meaning you can simply reply to that message rather than call them back.  It's a neat way of shuffling calls into emails, leaving a "paper trail" as you go, and it has the added benefit of increasing name recognition accuracy.

Normal accuracy depends on a few factors, including accent, background noise and how usual the words are.  PhoneTag uses a couple of different indicators to flag up where it has difficulty understanding: a word in brackets signifies a problem, with a single question mark indicating that the word is spelt phonetically, and a double question mark indicating that the system couldn't recognise a section at all.  You can reply to an email with ":redo" in the body to run it through the recognition system again.
In general, though, accuracy is good.  Names can present an issue, though PhoneTag recognizes all but the more unusual, and we found that high levels of background wind-noise resulted in an email peppered with double question marks, but listening to the audio file told us that we'd have had just as much difficulty decoding it ourselves.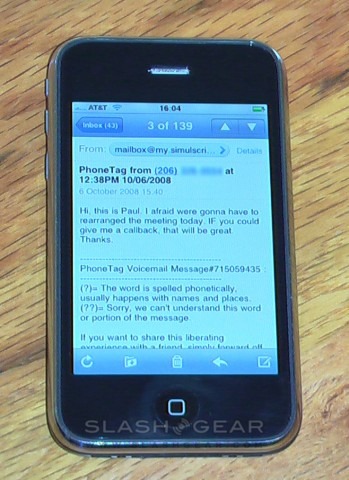 Compatibility is apparently with over 95-percent of mobile, work and home phone systems in the US, including AT&T, Verizon, Sprint, T-Mobile, Alltel and Skype.  In fact PhoneTag's technology is behind branded voicemail transcription services from a number of different providers.  When we spoke to company founder & CEO, James Siminoff, he assured us that top of the PhoneTag agenda is expanding the service to cover more phone providers.
There are a number of price plans, offering pay-per-use or a choice of monthly subscriptions.  You can either pay $0.35 per message, $9.95 per month with 40 included messages (then $0.25 for each subsequent) or $29.95 per month for unlimited messages.  There's a fair difference between those two monthly price plans, and we'd prefer to see an intermediate offering at around the $15-$20 mark.  Of course, those fees are offset somewhat by no longer paying to dial into your old voicemail, which can be even more expensive if you're roaming or using your phone internationally.
How much value you'll get out of PhoneTag depends on how much you use your current voicemail, and whether you prefer using voice or text to communicate.  What we've found is that PhoneTag can actually cater to both types of user: the voice camp get to quickly prioritize which missed call is important and needs to be returned, while those who prefer text can surreptitiously shift voice conversations to email or SMS. 
It's hard not to like PhoneTag, or certainly grow to appreciate it.  Perhaps the most telling judgement of a service is how much you'd miss it if it were gone; we'd certainly hate to go back to regular voicemail.  You may need to do some basic calculations based on how many voicemail messages you envisage getting each month, what your carrier charges to retrieve them and how much value you put on the extra convenience, but make the jump and we're pretty confident that you'll be pleased.
PhoneTag usually offer a free one-week trial to new users, but they've offered SlashGear readers a full 30-day opportunity to test out the service.  Click on the following link if you're interested, and make sure to let us know how you get on in the comments: https://apps.simulscribe.com/signup/a/slashgear