Phones 4U JUMP offers six month upgrades for early-adopters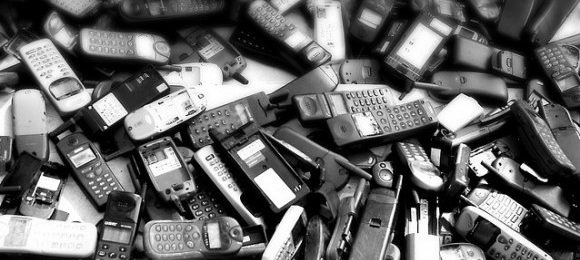 Cellphone owners in the UK could upgrade their on-contract handset as often as every six months, retailer Phones 4U have promised, with a new double agreement system that splits device subsidy from service. Trialled since May last year, Phones 4 U JUMP – "Just Upgrade My Phone" – is now rolling out across the UK; subscribers sign up to a double contract that includes a talk/text/data package with a carrier and a separate phone contract with the retailer itself, along with various trade-in options for switching device before the service agreement is up.
JUMP means subscribers own rather than lease their handset, as UK carrier O2 launched for the iPhone 4S last December, and can choose to keep it rather than to trade it in. Phones 4U says it will guarantee a trade-in value of at least £100 for the first twelve months, and customers can throw in up to two more devices to increase their overall trade-in value. Phones must be functional – able to power on, with non-cracked displays, not water damaged and including their battery – but some cosmetic wear is acceptable.
In example, Phones 4U suggests looking at current UK deals for the iPhone 4S. Customers could grab the Apple smartphone and a plan on a single agreement for £35 per month (two-year agreement; no upfront handset fee), or they could pay £37.99 per month on JUMP. However, that £37.99 is actually split into two sections: £15 service fees to a carrier, and £22.99 to the retailer for the iPhone itself.
If you chose to upgrade your phone after six months, you'd trade it – and up to two more devices – in, and that money would be used to offset the remainder of the handset subscription (i.e. 18 months). The new JUMP agreement would be spread over another 24 months, completely separate from the service agreement.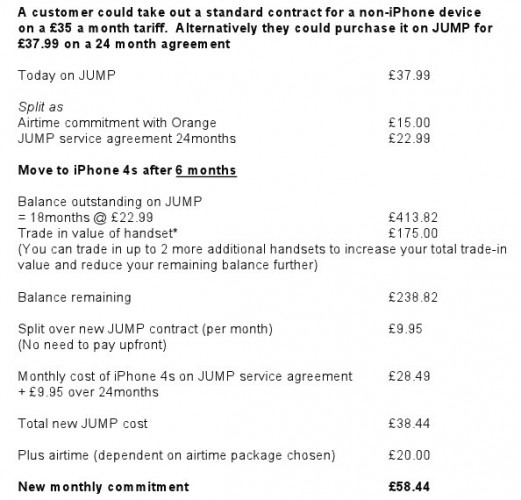 It's an interesting strategy, and one obviously designed for potential customers who'd like the value of a contract bundle but still want the freedom to change devices more frequently than every two years. It's probably still cheaper to buy an unlocked handset up front, and get a SIM-only deal, but JUMP at least means there's no big bill to pay at the start.
[Image credit: Matthijs Rouw]