Philips Sonicare DiamondClean Review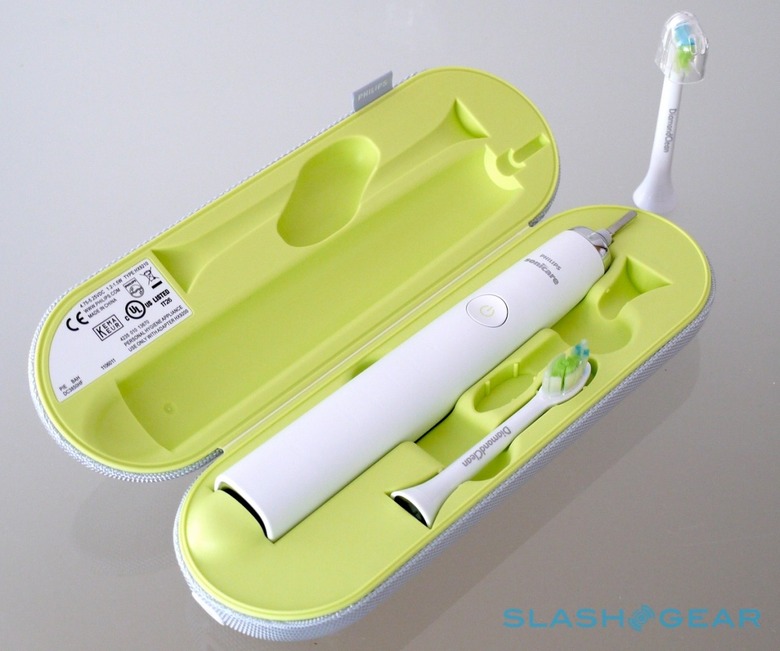 You have to be a pretty special electric toothbrush to make the frontpage of SlashGear, but Philips reckons its Sonicare DiamondClean HX9332 has what it takes. $300/£250 worth of sonically-cleaning electric mouth pleasure is on offer, complete with a USB traveling case and a magical inductive charger-glass for your bathroom counter. Is this the ideal holiday treat for your teeth, or merely an overpriced vibrating gobthrill? Check out the full SlashGear review after the cut.
Hardware
Electric toothbrush technology usually falls into one of two camps: either you have actively wiggling, sliding or rotating bristles, or some sort of high-speed vibration. Philips' Sonicare system falls into the latter category, promising the equivalent of 31,000 brush strokes per minute with its patented diamond-shaped bristles.
It's worth noting that this is the UK version of the DiamondClean, and the US package may differ slightly. Still, both give you a decent range of accessories, certainly more than we're used to seeing from a regular toothbrush. The DiamondClean itself is a fairly long, slightly tapering matte white rod, with a single power button and – only revealed when it's turned on – a column of mode lights and a battery status indicator. It's easily held and weighted relatively evenly along its length. Philips throws in a pair of brush-heads, which slot on easily, along with a hard-sided carry case with room for the toothbrush and both brush-heads.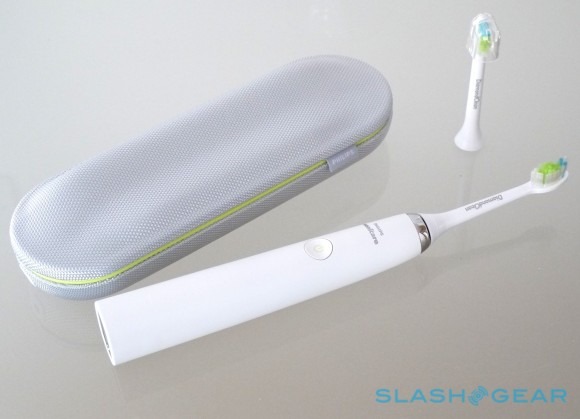 The carry case isn't just for protection, however, it also recharges the DiamondClean. On the outside edge is a mini USB port, and when you place the toothbrush inside and plug in – either via the included USB AC adapter, or into one of your your computer's USB ports – it charges it up. However, there's also a second charging option: a water glass. That sits on top of an inductive charger puck – powered by a regular shaver plug – and rejuices the toothbrush when you stand it up inside. It's certainly a little more convenient than lining up the usual notched base on a typical rechargeable toothbrush, though those looking to pick up a DiamondClean for all the family should note that you can only use the glass with a single toothbrush at a time, and it won't work with previous Sonicare models.
Philips Sonicare DiamondClean hands-on:
Unlike most brushes, there are five modes to choose from on the DiamondClean. The default is "Clean" with a simple two-minute brush, while "White" adds an extra thirty seconds on top for you to give the front teeth some extra attention. "Polish" is a minute session of intensive front-teeth buffing, while "Gum Care" pairs the "Clean" experience with a further minute of gentler gum massage. Finally, "Sensitive" ramps down the enthusiasm of the Sonicare system for those with sensitive teeth and gums. Pressing the power button cycles through each mode in turn, then shuts the toothbrush off.
Performance
If you've not used a sonic-style toothbrush before, the DiamondClean's high-speed vibrations take a little getting used to. Nonetheless, we soon got into the habit of gently guiding the brush-head around our teeth and gums, relying on the Philips' useful 30-second interval buzz to remind us to move between the four quadrants of our mouth and stick at it for the dentist-recommended two minutes.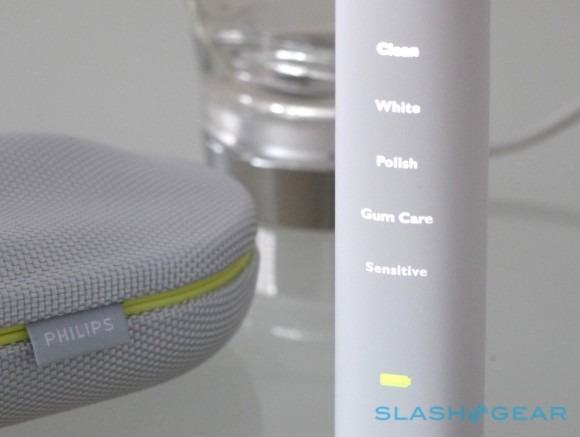 In keeping with other electric toothbrushes, we'd like to see the DiamondClean continue to run beyond the last timer buzz: as it stands, the Philips shuts off straight away, and there were times we were caught short and would've liked to have carried on brushing for a little longer. The longer Gum Care mode does factor in some extra time, however. We also quickly learned to switch between modes while the brush-head was in our mouth, otherwise you give the bathroom mirror a good toothpaste spattering. Previous Sonicare models had two buttons – one for choosing mode, one to start – which is a tidier way of handling it.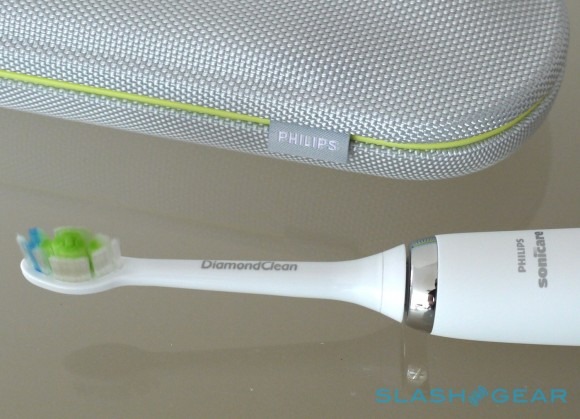 Compared to an Oral-B electric brush, the Sonicare system did seem to get teeth to that "tingly fresh" stage more consistently. It's worth noting that the Oral-B we're used to was a sixth of the price, however. The diamond-shaped bristles proved adept at getting into the gaps between teeth, and tricky to reach back teeth felt cleaner after the DiamondClean than with a rotating-head electric brush.
In comparison to a manual toothbrush, there's little competition: unless you have a bionic arm you're unlikely to get a traditional brush moving fast enough to compete with the Philips.
Battery
A full charge of the non-user-accessible battery is good for up to three weeks, Philips suggests, a figure our testing would support. In fact, we were at closer to four weeks before the DiamondClean began protesting. We'd like to have seen a segmented battery icon to give a more granular indication of remaining charge; instead, you have to wait for it to turn orange and then start blinking to know you're running short.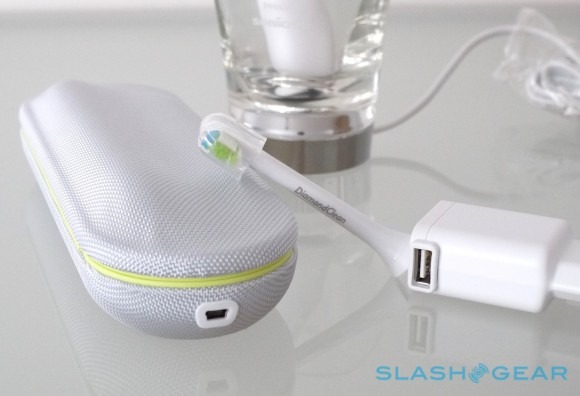 Having two methods of recharging is neat, though we never envisaged ever having to scold a toothbrush manufacturer for opting for mini USB instead of the more common micro USB standard. There's also no room in the carry case for the USB cable itself, which seems a missed opportunity.
Price
$300/£250 is a huge amount to spend on a toothbrush. Even with a street price closer to $190/£150, it's an expensive option. Brush-heads add to that as well, with a pack of two – Philips' recommend changing every three months – priced at $30/£20 (street price closer to $23/£14). In contrast, other Philips Sonicare brushes can be had for well under $100, though only this particular model uses the newest DiamondClean heads that are said to contribute in no small amount to the overall experience.
Wrap-Up
Philips promises "to brighten your smile in just one week" which is a somewhat tricky thing to judge. Nonetheless, we found our teeth and mouth felt cleaner and fresher after switching to the DiamondClean from our regular electric toothbrush, both immediately after using it and in the hours that followed. Whiteness is a more subjective matter, and after around four weeks of use we're yet to see noticeable changes. That's in keeping with other user reports, however, that indicate closer to 2-3 months of frequent use is required before a distinguishable change in whiteness is observed.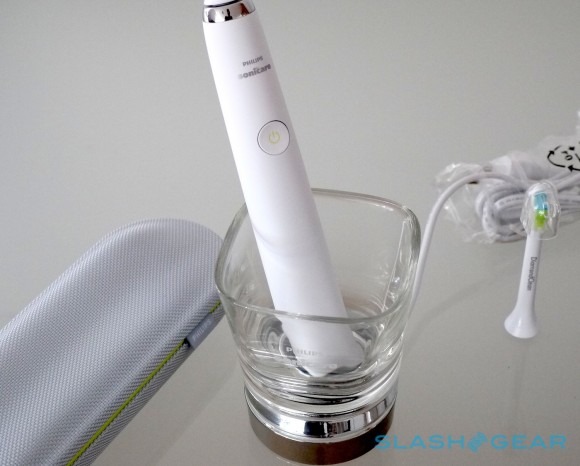 On that front, although it's not as quick as a dentist whitening session, it's cheaper in the longer term. Making more use of the dedicated whitening mode could accelerate the process as well. For convenience and geek-appeal, the Philips Sonicare DiamondClean certainly has its strengths; we'd advise shopping around for the best price before committing, however.