Philips Says "Touch Me & I'll Organise Your Family"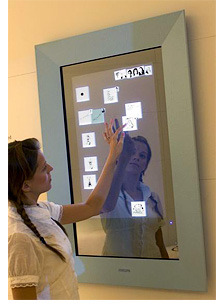 We've all been there: you're just about to leave the house and your great aunt Jessica calls to remind your uncle Horace (who has been living with you since the accident) that they're going out for a joint haircut and Pimms morning at the church hall.  There's no paper to hand, no pen either, and your taxi driver already has the meter ticking.  All you can do is attempt to chew open a minor vein and scrawl a basic message on the wall, hoping that you've enough time to call by the hospital for a quick suturing.  Bloody inconvenient.
Step forward into the slightly milky light Philips, who have come up with a solution that will save all those annoying self-harm hospital bills as well as organise your home.  The "In Touch" concept is a message board with a difference – it's a huge LCD touchscreen.  In the above scenario all you'd have to do is touch the blue light at the bottom right on the screen and record a quick video message, which would be saved in uncle Horace's personal inbox.  If Horace is afraid of moving images (they steal your soul, don't you know) you can write directly onto the screen with a stylus and store that virtual Post-It instead.  MMS and SMS compatible, "In Touch" will alert people when there's a new message.
Sadly it's just a concept at the moment, but if we all threaten to hold our breath until our faces go blue then Philips might just agree to manufacture it.