Philips' hue tap battery-free switch for hue wireless bulbs has gone on sale, offering an app-free way to quickly control groups of lights between a set of favorite presets. The circular switch was announced back in March as a way for those with hue installed to avoid pulling their smartphone or tablet out.
Up to four difference scenes can be controlled from each hue tap, though you'll need the app to actually assign them first. Up to 25 taps can be paired with a single hue bridge, controlling a maximum of 50 bulbs overall.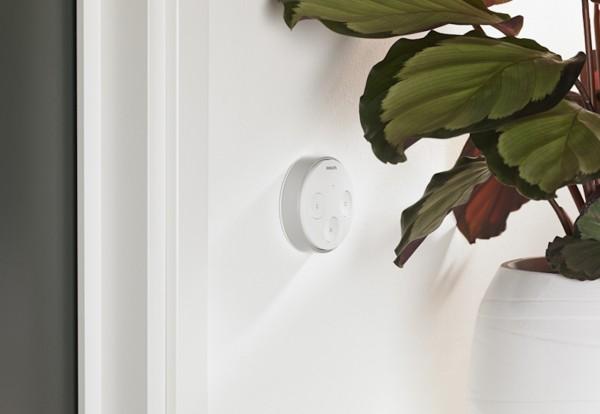 What makes tap particularly interesting is the fact that it's entirely battery-free. Instead, Philips uses kinetic power to fuel its low-power ZigBee connection; that means you can mount it on a wall without having to run wiring, put it on a coffee table, or even use it as a portable remote.
With a dearth of simple wireless switches and a rise in smartphone apps to control an increasing number of smart home technology, simple ways for the short-of-time or tech-confused to control connected devices are a glaring omission. Not everybody has a smartphone or wants to reach for a tablet just to turn their lights off before they go to bed, for instance.
Best of all, Philips will expose the hue tap's controls through its existing hue API, so that other developers can integrate it with their systems too. hue will also work with Apple's upcoming HomeKit platform.
Philips hue tap is on sale from today, from Apple stores and online, priced at $59.95/€59.95.
Update: Looks like something came in-between those handy switches and shelves. Philips tells us that due to a mix-up, they now aren't expected to go on sale in the US until next week.