When it comes to getting started in the smart home, connected lights are where most people start, and one of the more popular platforms is Philips' Hue. If you're looking to get some more connected color in your IoT life, Amazon is running a sale on a number of Hue products today, from starter kits to individual bulbs.
Hue works on a hub system, with a small box that connects to your WiFi router. Each bulb then connects to that hub, all controlled through Philips' Hue app. However, they're Works with Alexa certified, too, so if you have an Echo or another Alexa-powered device, you can ask for the lights to come on in different rooms by voice instead.
If you have an Echo Plus, you can even skip the Hue bridge and pair the bulbs directly with the smart speaker. Hue also works with Apple's HomeKit and Google's Home smart speaker, too.
For most people new to the smart home, the Philips Hue 60W White and Color Ambiance Starter Kit should probably be the first port of call. That's now $111.99 today, a saving of $22 over the usual price. It's for a certified refurbished kit, with the hub and three white/color bulbs.
If you want to add more bulbs to your Hue setup, meanwhile, there are two options. Philips' Hue White and Color Ambiance BR30 bulb is also reduced in certified refurbished form, down to $31.99. The GU10 version, for spotlight strips, is now $27.99, again in certified refurbished form.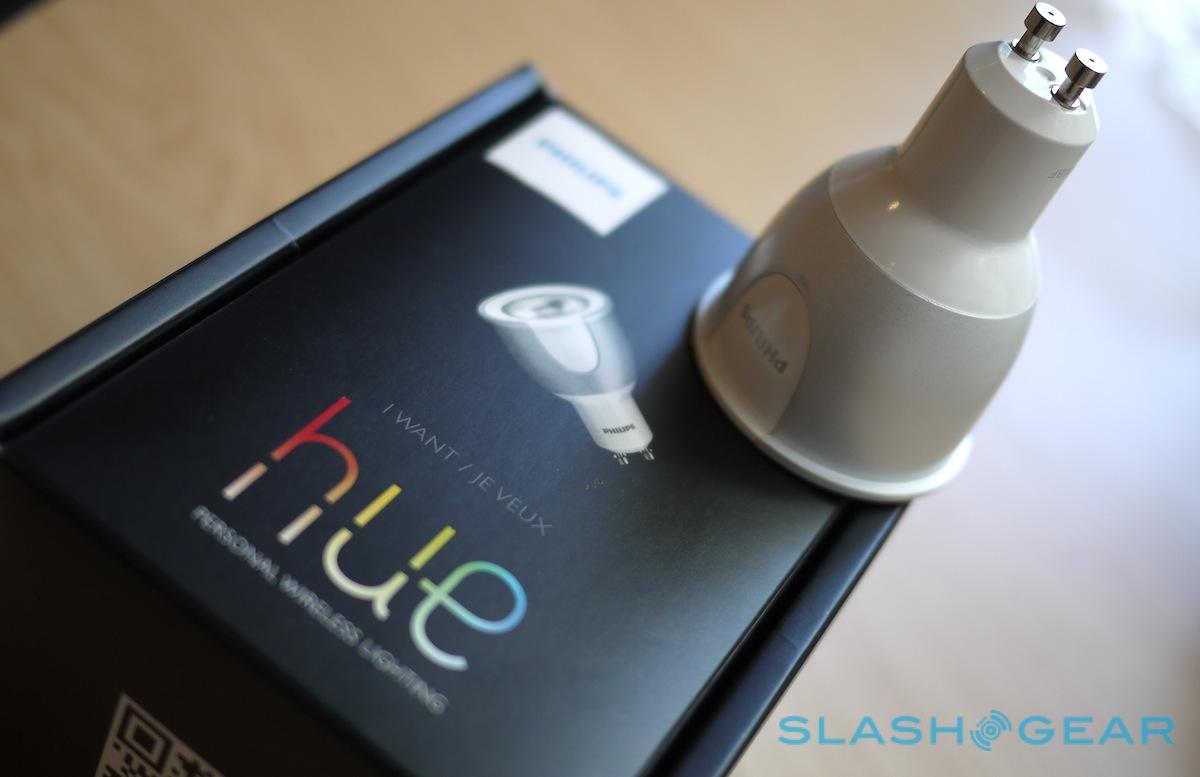 However, it's not all about replacing existing lights. Also in today's one-day Amazon sale are some of the more unusual Hue lighting options. The Hue Bloom, for instance, is a standalone lamp, and is $43.99 today. The Hue Go cuts the cord, and is battery powered; it's $47.99 and works standalone, too, with a button on the base clicking through different color presets even if you don't have the Hue hub set up.
The Hue LightStrip Plus Extension, meanwhile, is a self-adhesive extension strip of multi-color LED lights. You'll need the LightStrip Plus kit to actually connect it, mind, but at $23.99 today it's a straightforward way to add more color.
It's a good time to get into the Hue ecosystem, too. If there's been one thing to complain about the smart bulbs over the past couple of years, it's been the companion app for iOS and Android. Happily, Philips revealed a new version of the app only this week, which much improves things like setting up custom color scenes, controlling multiple bulbs, and generally tweaking things to your perfect configuration.
SlashGear uses affiliate links, and sometimes if you buy something we might get a small percentage of the sale