Philips Hue Play HDMI Sync Box makes a TV light show from any source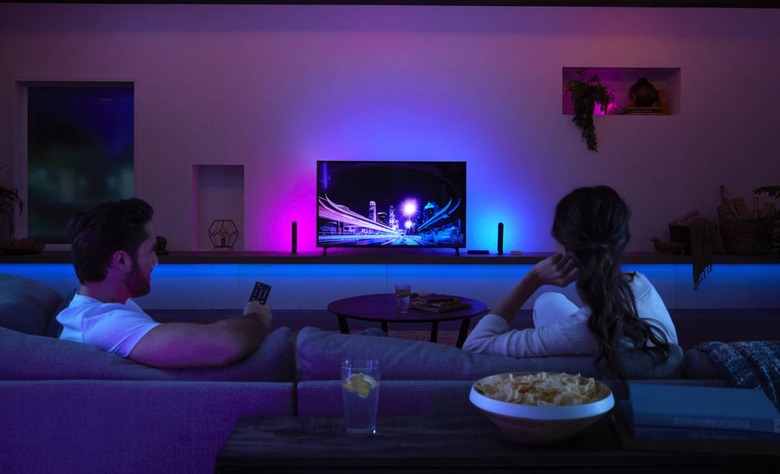 The color-changing Hue bulbs in your living room are about to get a lot more useful, with the Philips Hue Play HDMI Sync Box enabling just about any media source to get its own "surround light" show. Connecting in-between a TV and your HDMI sources, the new adapter wirelessly controls the smart lighting in the room, matching it to the colors on-screen.
Philips released its Hue Sync app back in May 2018, an experimental way for PC and Mac users to synchronize what was happening on-screen with their color-changing lights. While gamers may have been the primary target audience at first, that didn't stop others from adopting the system. In fact, the company says, one of the more popular applications has been using Hue Sync with a TV for movies and TV shows.
Problem is, the app didn't really make that straightforward. Since it required a computer to run on and control the lights, it involved having a HTPC – or hooking up a desktop or laptop to the TV – in order to play media. Only the most dedicated went to such effort.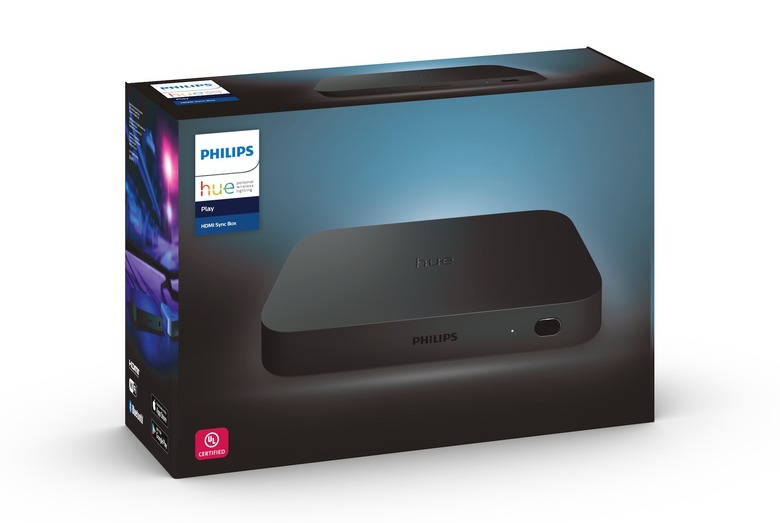 Now, the Philips Hue Play HDMI Sync Box offers a far easier route. Smaller than a VHS cassette, it's a nondescript black box that works both as an HDMI switcher and as a Hue lighting interface. Plug in a source – which could be anything from a Blu-Ray or DVD player, a cable or satellite box, a games console, or a streaming media player – and it will automatically synchronize the lights to what's piped through to the TV.
It'll work with up to ten color-changing Hue lights, linking to your Hue Bridge to control them. Through the Hue Sync Mobile app you can configure where each light is positioned in the room: that could be as simple as a single Hue Play light bar behind the TV, or a full array of lamps around your couch. The Sync Box then controls which color – and at what brightness – is shown where, to tie in with what's on-screen.
You can adjust how intense the effect is, in the app, depending on how immersive you'd like the lights to be. For example, you might only want a fairly low-key light show (or none at all) when you're watching TV, but the maximum effect when you're gaming. Depending on the level you set, the lights can go all the way down to leave the room pitch-black, or alternatively stop at a dim level that still helps you avoid tripping over the coffee table. The speed at which the lights change is also adjustable.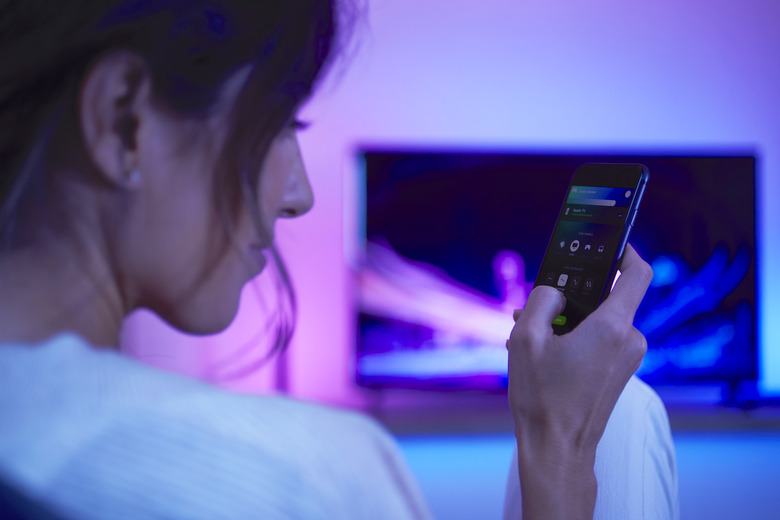 While the box is active, the Hue bulbs it's controlling are locked, so there's no need to worry that someone will inadvertently adjust them while you're in the middle of a movie. HDMI-CEC support means the Sync Box will turn on and off when your TV does, automatically releasing the bulbs accordingly; there's also a USB port which, when plugged into a USB on your TV, switches the Sync Box on when the TV powers up for sets without CEC support.
As for the HDMI switcher, that flips between ports automatically too, though you can control it in the Hue Sync Mobile app as well. You needn't be watching video, either; the Hue Play HDMI Sync Box will work with music, too. While you'll need the Hue Bridge, the system will work with any generation of Hue bulbs, lamps, or fixtures.
The Philips Hue Play HDMI Sync Box goes on sale October 15, priced at $229.99. It'll be available in Best Buy from October 20, and Philips tells us retailers are likely to end up bundling it with starter kits of bulbs for those getting their first taste of Hue lighting.