Philips Hue LightStrips And Bloom Review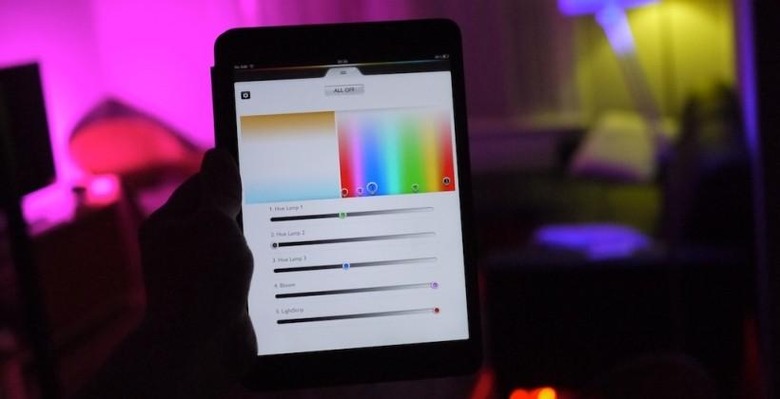 Philips has been making multi-colored lighting for some time, but even so the hue system came as a surprise last year. ZigBee-enabled wireless LED bulbs, remotely controlled by an open mobile app, and promising the sort of smart home functionality that would once have demanded many thousands for installation, hue quickly sold out in stores and built a loyal following of users and developers tapping into the API. Now, for 2013, there's the "Friends of hue" range, a new line of companion products that hook into hue ecosystem. LivingColors Bloom is a compact, portable lamp, while the LightStrip is a long, adhesive-backed strip of LEDs; read on for our full review.
Prerequisites and Setup
You'll need to be already onboard the hue train if you want to use either a LightStrips kit or a Bloom lamp. Neither comes with the ZigBee base station required to bridge the hue system with your home network; for that, you'll need the hue starter kit which we reviewed last November, which for $199.95/£179.95 gets you the hub and three of the original hue bulbs. Subsequent bulbs are $59.95/£49.95 apiece.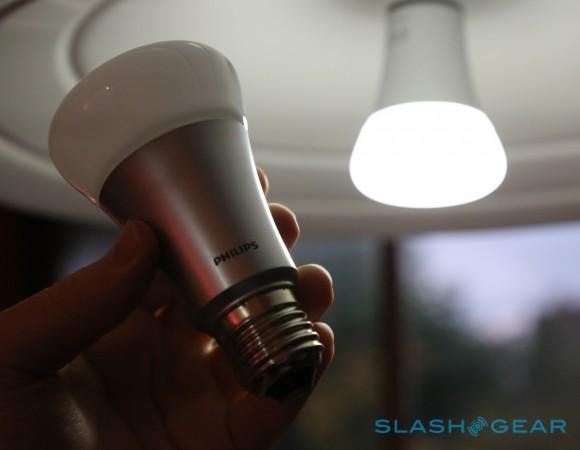 Setup is straightforward. The regular hue bulbs screw into a standard lamp fitting and come pre-paired with the hub out of the box. Connect the base station to a spare ethernet port on your router with the supplied cable and plug in the power, and after a few seconds the three blue LEDs light up to show you're good to go.
Philips offers free apps for iPhone, iPad, and Android, and you can have multiple devices all controlling the same hue system; one hub can command up to fifty individual bulbs and lamps. Pairing the app is a case of running it and then pressing the button on the base station, then waiting for them to register.
LivingColors Bloom
Although freshly granted "Friends of hue" status, the LivingColors Bloom isn't actually a new product. In fact, Philips has been offering the lamp for some time now, also as the Bloom, though there are a couple of changes this time around. For a start, while the original Bloom – positioned more as a standalone lamp – came with a bundled remote control, the new hue variant doesn't; it's assumed you'll be using the full hue apps.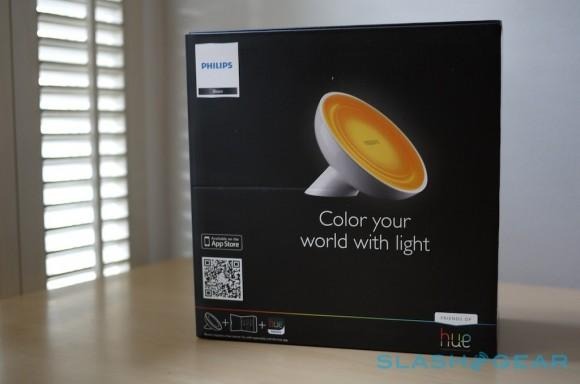 The power adapter is permanently wired into the new Bloom, too, whereas the old version could be unplugged from the base of the angled stand. Other than that, old and new are functionally identical. In fact, you can use the original Bloom perfectly well with a hue system; it simply requires re-pairing the lamp with the hue base station.
Plug it in and pair it up, and the first thing you'll notice about the Bloom is that it's nowhere near as bright as the original hue bulbs. They're rated at up to 600 lumens output – that's of course adjustable, since each bulb can be dimmed – while Bloom musters just 120 lumens. You still get the 16m color options, however.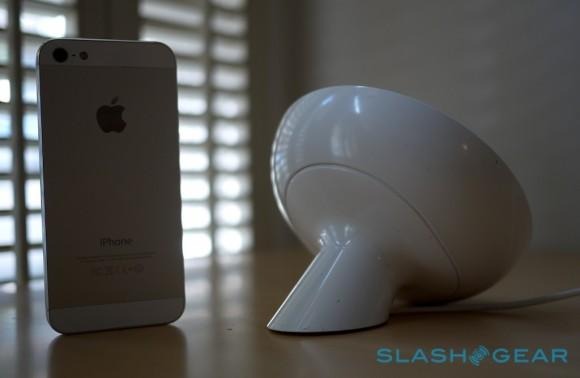 In practice, the size of Bloom and the fact that there's no provision for wall- or ceiling-mounting it means that it works best as an accent lamp or to highlight a particular feature. We had best results pointing it into a corner, preferably with light colored walls, where the effect of the LEDs was most noticeable. At $79.95 that makes it a somewhat expensive addition to the system, since you could realistically pick up an extra hue bulb and a basic lamp base and create roughly the same thing but with more power.
Still, the plug-and-play simplicity of Bloom – not to mention its sturdy, white-finish metal body – makes for a useful little lamp, and it's easily unplugged and moved around for those times when you want to spotlight different areas.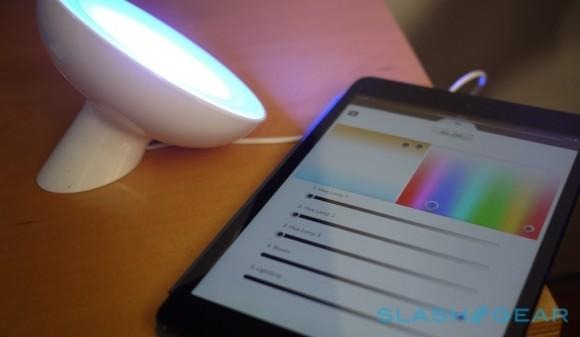 LightStrips
Where Bloom is an old product with new branding, the $89.95 LightStrips are a new product riffing off an old idea. String lights of LEDs have been around for years, but the ability to wirelessly control their colors is new. As with Bloom you get support for up to 16m colors, but now the lights are strung out along a 2m (6.56 foot) cable, at roughly 2.5cm intervals.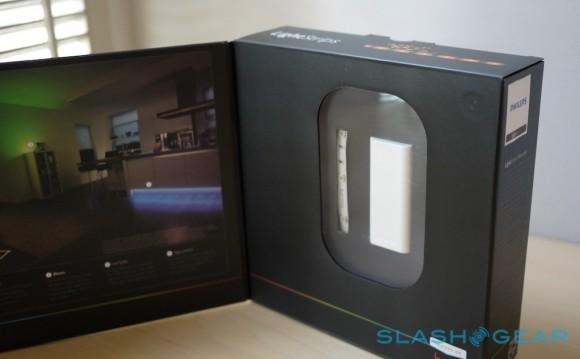 The strip itself is relatively flat and around a centimeter wide. On the back, there's 3M adhesive so that you can stick the LightStrips into place, whether that be around the back of a TV or cabinet, under your sofa, or at the edge of a breakfast bar. The small wireless box, containing the ZigBee components, also has two sticky pads on the back, for discrete positioning.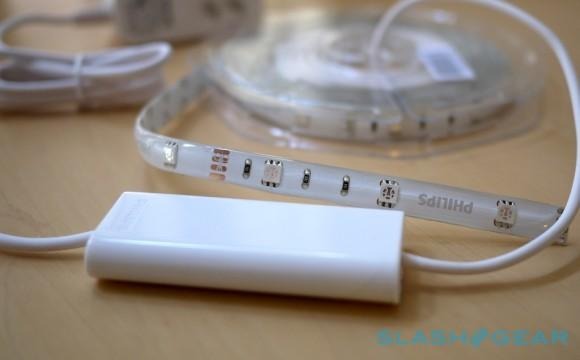 It's also possible to trim the LightStrips cable to suit whatever installation you have in mind perfectly. Printed lines periodically along the cable show where to cut, and you can do it with a steady hand and some decent scissors. However, it's worth remembering that the cable you trim off instantly becomes useless: there's no way to wire it up to another control box and reuse it. That given, we'd be more of a mind to tuck away any excess, just in case we wanted to use the full length later.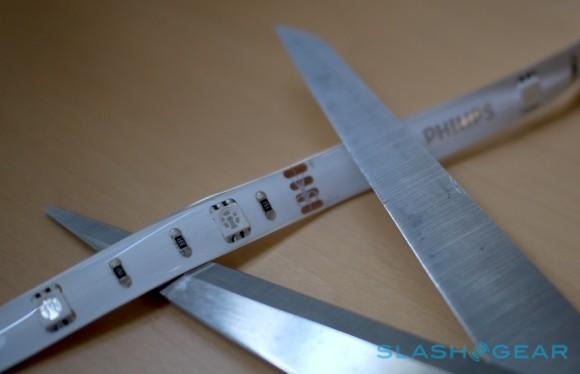 Just as is the case with Bloom, the LightStrips cable only puts out 120 lumens, meaning it's not really sufficient to light up a room. Since the LEDs are spread out, rather than clustered together, it's an even more indirect light source; this certainly isn't something you'd want to try to read a book by.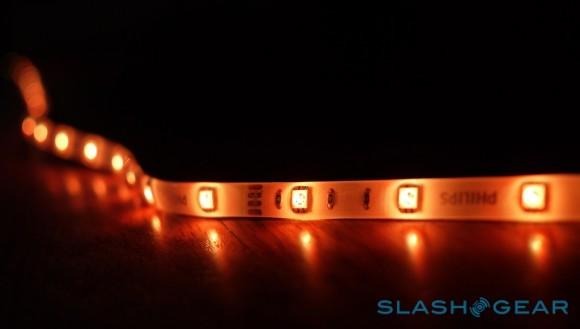 Nonetheless, the effect is great with the right positioning. If the room is sufficiently dim, the LightStrips cast an impressively broad glow, and you can run the cable in ways a single hue bulb or even three couldn't quite be installed.
Philips hue App
Philips' apps for the hue system have gone through a few changes since we first reviewed it, though the basics are still easy to use. You can individually adjust the brightness and color of each bulb – including choosing white light ranging from cool to warm – or corral several lights together into a one-touch macro. These macros can be based on color-picking different spots on a photo, either one of Philips' preloaded shots or by taking a new image using your Android or iOS device's camera.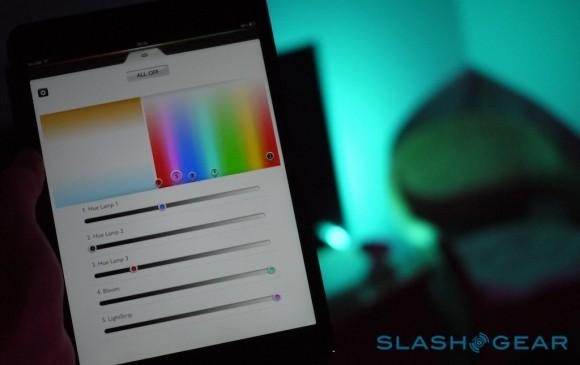 There's also the online component; once you've registered for a free hue account, you can remotely log into your system and tweak the lighting from afar. We had some stability issues with this the first time round, but its become more usable in latter iterations. If you've got multiple apps linked to the same hue online account, they'll share their scene settings too.
That's not the only change, mind, though you'll need to be using the iPhone or iPad apps in order to actually benefit from them. Philips has added geofencing, which means you can have your lights automatically turn on or off when you arrive home or leave the house. There's also more advanced alarm and timer functionality, which allows you to set up a home security system to make it look like you're around even if you're on holiday (complete with random offsets to make it look more realistic), or alternatively to wake up to a particular scene each morning.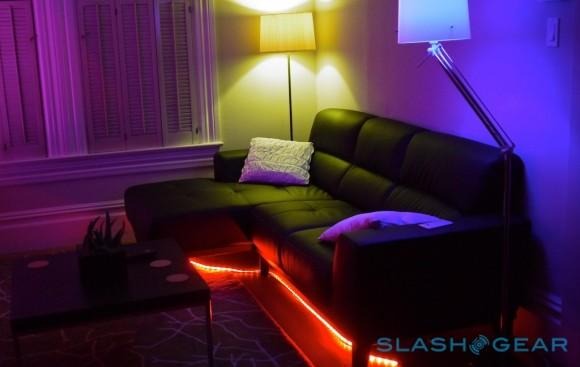 The hard work hasn't all been Philips', however. The hue SDK has been thrown open to developers, and there are various projects underway that use the multi-color bulbs. If you want your lamps to flash when you get poked on Facebook, or to be linked into your Philips Ambilight TV, you can now do that. Meanwhile, there's also integration with If This Then That (IFTTT), for third-party macro support potentially tying hue into just about any online service you can imagine.
If you're a staunch Android user, the outlook is a little less certain. Philips is yet to confirm when, exactly, the Android version of the hue app will get an update with the same features as the iOS software; as it stands, you get pretty much the same core functionality as hue originally launched with, but not much more than that.
Wrap-Up
We were big fans of the original hue system. Smart lighting has been a mainstay of professionally-installed home automation systems for years, but a cost effective and reliable DIY alternative had been sorely missing. Philips' bulbs weren't quite as cheap as their dumb LED siblings, but the flexibility and sheer geek appeal helped justify the extra.
Viewed in those terms, LivingColors Bloom and the LightStrips are more of the same. They're less powerful than the original hue bulbs, and more expensive when bought individually, though they do serve different purposes. Bloom works well as a portable system, whereas hue bulbs are perhaps more likely to be screwed into a fitting and left alone, and the compact and lightweight lamp can readily be positioned to highlight a particular ornament or brighten a dark corner.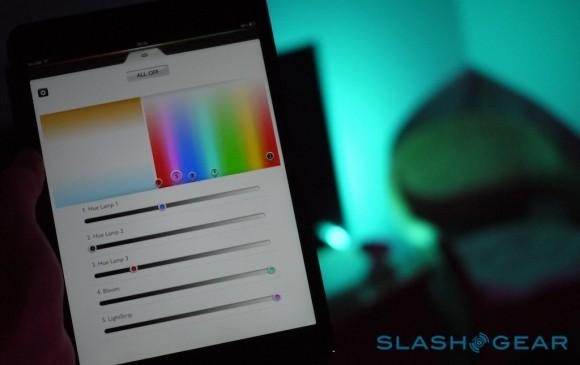 It's the LightStrips that we find most appealing, however, bringing as they do colored lighting to areas you might not regularly find a lamp fitting. A warm glow from under the sofa is great for that Cineplex feeling on movie night, but looks just as good running along the underside of a bannister or breakfast bar. We wish trimming LightStrips didn't leave a wasted section – $90 feels just a little too expensive for that – but we can't fault the system overall.
Back in our original hue review, we suggested that the lighting system would need third-party developer support and a commitment from Philips to ongoing enhancement if it was to be more than an appealing gimmick. In the months since then, Philips has demonstrated just that (Android app aside), and the easy integration of IFTTT and other external projects now makes hue a far more legitimate part of a smart home. Relatively niche the LivingColors Bloom and LightStrips may be, but these Friends of hue are welcome at our house any time.