A new update for Philips Hue smart bulbs has improved how the lights recover after losing power, with the option to have them resume their last state. The connected bulbs can be controlled from a smartphone or a voice-controlled smart speaker, but they've always had one semi-frustrating limitation.
Since the wireless radio inside each bulb requires a permanent connection to the Hue hub in order for them to be individually controlled, you can't power off the lamp or light fixture they're screwed into. That can prove confusing for people used to just flicking a light switch to turn on the lights. If you leave that switch turned off, the Hue bulbs won't respond.
Philips can't retrain people not to use their light switches, but its latest firmware update does at least refine how they recover when the power is restored. Until now, if the power is cycled, the bulb will turn on in its default mode. That means white light and maximum brightness.
With the new update for iOS and Android, however, that can now be changed. Instead, you can have the bulb resume to its last state – color and brightness – before the power was lost.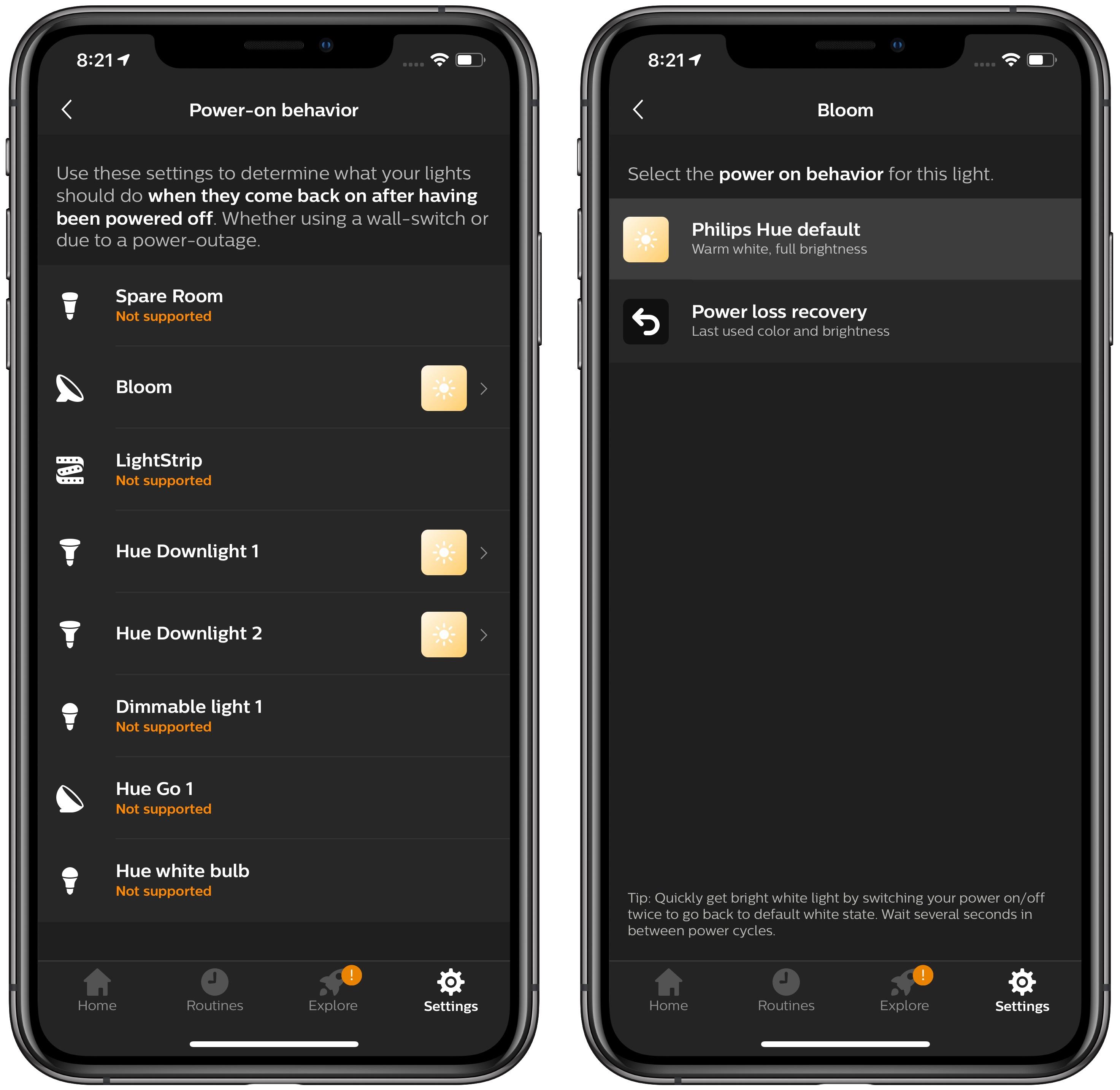 If you want bright white light, toggling the light switch twice in rapid succession will still default to that. Meanwhile it's also possible to leave the white resume as the default behavior. You can change it on a per-bulb basis, too.
Only official Hue bulbs – not other Zigbee-compliant bulbs controlled through the Hue app – can use the new functionality. Some, too, will need a firmware update of their own before they can be reconfigured. That could be a fairly time-consuming process if you have a number of bulbs needing the new firmware, since they're upgraded one at a time.
All the same, it's a welcome fix to a lingering complaint about Hue's range. The lights themselves are also seeing a pre-holiday promotion; you can pick up a starter pack, for example, for $89.99, a $60 saving on the usual price. That gets you the Hue hub as well as two A19 color bulbs, each capable of displaying 16 million colors.
If you want to set up more smart lights from the get-go, there's also a four bulb starter pack. That includes the Hue hub and four color A19 bulbs, for $169.15, a 15-percent saving over the usual price.
Disclosure: SlashGear uses affiliate links, If you click on a link in this article and buy something we'll get a small cut of the sale.