Philips has launched Hue Beyond, a new range of luminaires that integrate color-changing remote control bulbs into a line of ceiling, pendant, and table lamps. Building on the standalone Hue bulbs but integrating them into lamps, each Hue Beyond model actually includes two different lighting scenes that can be independently controlled for uplight and downlight purposes.
The shades themselves are made from satinated glass and aluminum, with the smaller metal bowl overlaid on top of the larger glass one.
Inside, there are three Hue lamp modules in the downlight, and one in the uplight, with a total 1,200 lumen output and over 15,000 hour lifespan. As with other Hue bulbs, you can hook the lamps into more comprehensive scenes as well as control the temperature of the white lighting.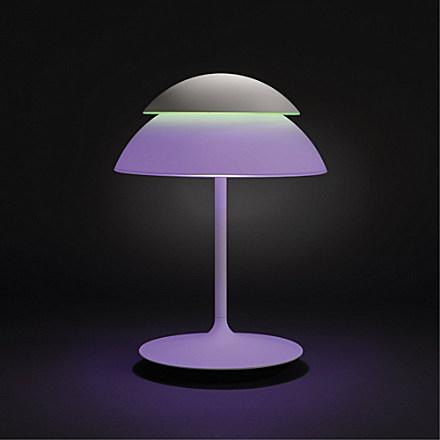 By splitting the lamp into two scenes, you can combine both task lighting and mood lighting from a single source. So, you could have the lower half produce white light for reading, while the upper section projects out colored light to change the background feel of the room.
Alternatively, the colored lamp section could be used as a notifier, hooked up to IFTTT to flash different colors when you have new email, when someone is walking up the drive, or from other smart home triggers.
It's not the first time we've seen Philips come up with full luminaires rather than just the core color-changing bulbs. Back in March, the company showed off a range of 3D printed options, though they certainly weren't cheap, with the line kicking off at €2,499 ($3,434).
Philips Hue Beyond will be a whole lot more affordable than that, however. The ceiling and pendant lamps will be €530/£499.99 apiece ($695) while the table lamp will be €330/£299.99 ($433). They're on sale in the UK and mainland Europe now; Philips tells us there's no word on US availability or pricing at this stage, however.