Philips HMP2000 takes on Roku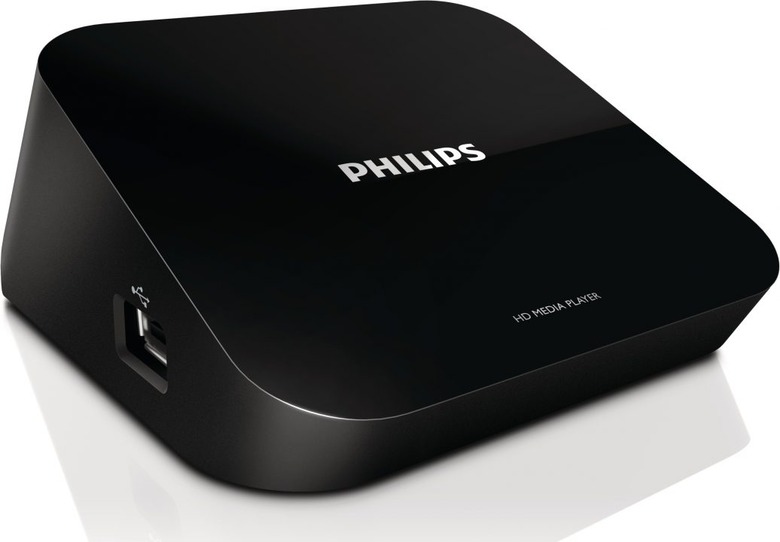 Philips is taking on Apple TV, Roku and others with a smart TV set-top-box, the Philips HMP2000, adding YouTube and Netflix streaming, among others, to any regular display. Connectivity includes integrated WiFi and HDMI for Full HD video output along with audio, and there's a USB port for hooking up a memory stick and playing back local media.
The remote, meanwhile, has a dedicated Netflix button as well as one for YouTube, and you can also stream content from across your home network that's stored on a NAS. The HMP2000 will handle up to 1080p videos in MPEG1, MPEG2, H.264, MKV, VC-1 and WMV (V9) formats, together with BMP, GIF, JPEG, PNG and TIFF images, and PCM, MP3, Dolby Digital and WMA audio at bitrates up to 320 kbps.
The box itself is 90 x 50 x 100 mm, and connections really are kept to a minimum: there's no wired ethernet, and only the HDMI output, so those still rocking analog connections or looking for S/PDIF-style digital audio will need to look elsewhere.
Pricing for the Philips HMP2000 is priced at around £49.99 ($79) and is already available in the UK. No word on when it might go on sale elsewhere at this stage, however, but Philips does at least have some ambitious smart TV plans.
Update: Edited to clarify what streaming services are offered: BBC/Channel 4 content is via Netflix, rather than either iPlayer or 4oD. More information in our hands-on.