Philips GoGear LUXE Bluetooth A2DP headset & 2GB PMP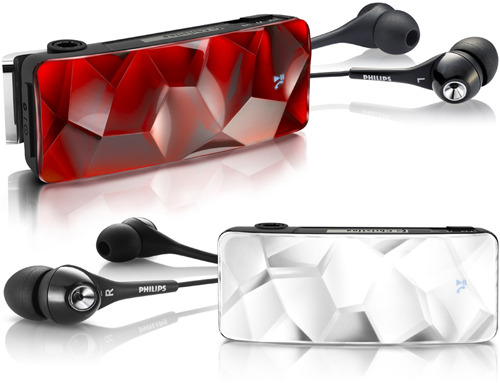 Philips have unveiled a new stereo Bluetooth headset that not only streams music from your cellphone but has its own onboard storage too.  The Philips GoGear LUXE incorporates Bluetooth 2.1 with A2DP stereo support, dual microphones and 2GB of integrated storage; there's also a single-line LCD display that shows Caller ID and track details.
Music is automatically paused when a call comes in, plus there's an FM radio for when you run out of your own music.  Philips' proprietary FullSound DSP technology is also included, which claims to enhance digitally-compressed music to CD quality.  Expect 10hrs playback from a single charge, or 100hrs standby.
While currently targeted at female users, with jewel-effect silver or red casings and the ability to wear the $94.37 LUXE as a broach, Philips are apparently planning a male version as well.  A member of staff at the launch event was spotted wearing a more sober, mirror-finish LUXE, which he removed after it was spotted.  Larger capacity versions are also expected next year.
The Philips GoGear LUXE will launch in November in Singapore initially, followed by Thailand, Malaysia, India, China and Southeast Asia.  There's no word on when it might reach Europe or the US.
[via CNET Asia]