Philips FWP3200D DJ-Dock makes you the communal deadmau5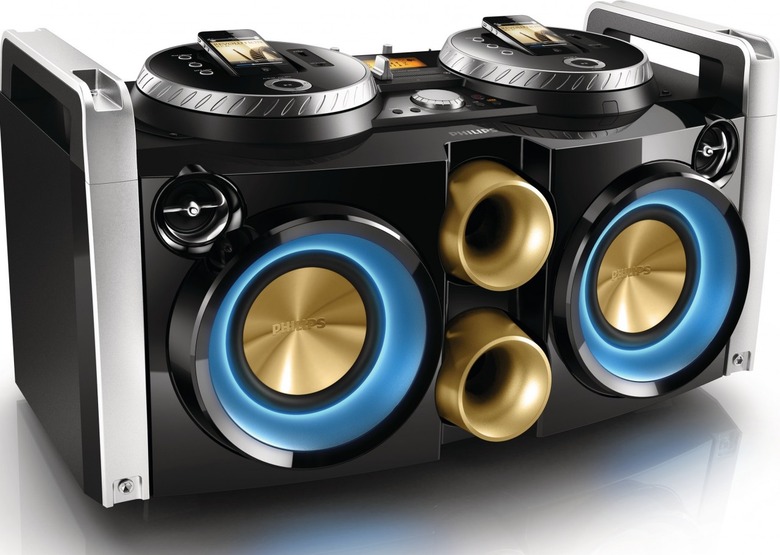 "Music," the wise Madonna once sang, "makes the people come together," and although it may look like the tail-end of a Pagani Zonda, the Philips FWP3200D DJ-Dock attempts to do just that. A combination speaker system and dual-deck docking station, the DJ-Dock takes two iPhones or iPods in its rotatable bays – which can be swiveled for either a user standing behind, or positioned for communal control at a party – and includes integrated lighting effects.
The flashing speaker rings can be user-selected to glow either red, blue or purple, or indeed an alternating combination, and they pulse in time to the beat of the music. A matching FWP1000 speaker kit can be daisy-chained too, adding a further 240W of amplification and matching lighting.
Connectivity includes USB and and aux-in port, for use with non-Apple media players, and there's an included remote control which can be used to switch between the lighting modes. A microphone input is also supplied, and there's support for the Algoriddim djay app for iPhone and iPod touch. T
he usual DJ controller buttons and sliders are present and correct, including a channel fader for switching between the sources, treble/bass controls, and a "power boosting" MAX Sound mode for getting the thumpiest audio from the 300W amplification. Speakers consist of 2-inch tweeters and 5.25-inch woofers, and there's an FM tuner if you've got nothing worth listening to on your phone.
The Philips FWP3200D DJ-Dock is available in the UK now, priced at £299.99 ($470). The FWP1000 speaker kit is also available, priced at £199.99 ($314).