Philips' Fidelio HTL9100 soundbar, the speaker system which can offer both virtual and true 5.1 surround sound thanks to detachable speakers, has finally made it to store shelves. Landing in the UK at £699 ($1,077), the HLT9100 looks at first glance like a regular soundbar, and indeed operates normally in either stereo or virtual-surround modes; however, the end sections can also be detached and positioned behind your sofa or chair, with the Fidelio system automatically kicking into true surround mode.
Each of the satellite speakers is wireless, using a proprietary 5.8GHz connection to the main unit so as to avoid interference with Bluetooth or WiFi networks. Philips promises up to 10hrs of continuous playback on a full charge of the Li-Poly batteries each contains, recharging when reattached to the base station.
There's also a wireless subwoofer using the same 5.8GHz link, and which relies on Philips' own DoubleBASS processing which, the company claims, can give the impression at least of sounds as low as 20Hz.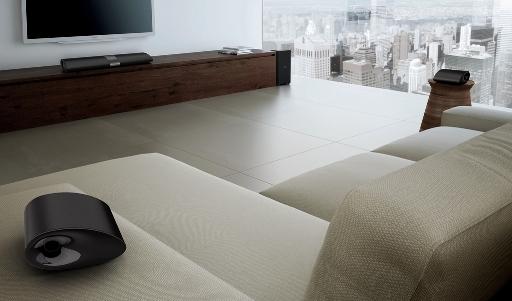 In the core speaker unit there's an integrated DAC and Class-D amps, together with a Cirrus Logic 32-bit DSP processor. That's hooked up to Philips' smart surround system, which can supposedly dynamically adjust playback to suit the acoustics of the room.
The HLT9100 also automatically switches between horizontal and vertical modes, depending on whether listeners have it on a bench or table, or wall-mounted. Connectivity includes a pair of HDMI inputs and Bluetooth, supporting wireless audio streaming.