Philips and Nest are working together on integrating hue wireless bulbs as a potential part of the "Works with Nest" program the Google-owned smart thermostat company launched in a bid to link up the smart home. The work-in-progress, Philips tells SlashGear, builds on hue and Nest's existing compatibility as linked by IFTTT.
"We are working with Nest to investigate what new features we could bring to our users through the combination of the hue developer programs and Nest developer program," a Philips spokesperson told me.
Currently, there are several Nest IFTTT recipes which link the thermostat as well as the Nest Protect smoke alarm with the hue bulbs. For instance, using the online bridging service it's possible to turn on the lights automatically if smoke is detected, or to change their color to red if carbon monoxide is found to be present.
However, while flexible the system is a stopgap to direct integration which could unlock even more nuanced functionality. One possibility that Philips has been investigating for some time, hue system architect George Yianni told me, is investigating how light color and tone can affect perception of temperature and potentially even lead to savings in HVAC costs.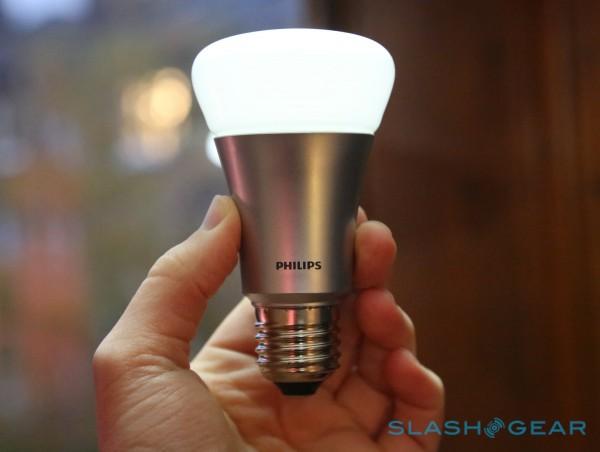 For instance, Yianni explained, the color temperature of lighting can affect how people perceive the actual temperature of a room, and delay the need to turn up the heat or increase the power of the air conditioning. That sort of granular integration isn't currently possible with IFTTT, but could be if the SDKs of both Nest and hue improve how they communicate.
Google announced the Nest Developer Program in June, with an initial list of home automation and wearable firms already signed up.
At the time, hue was conspicuous by its absence, though rival smart bulb firm LIFX was onboard; other partners include Jawbone, turning the UP24 fitness band into a wearable trigger, and Whirlpool, switching washers and dryers into different efficiency modes depending on whether the house is empty or occupied.
There's also support for Nest communicating with Google's own Google Now, which could eventually tie Nest into Android Wear smartwatches. Since Wear will share the same notification APIs with Android Auto and Google Glass, that will potentially bring Nest functionality to a broad range of cars and head-mounted displays.
Philips couldn't give me a timescale for when "Works with Nest" support might actually reach owners of the bulbs.
Update: Philips highlights that, currently, hue is not part of the "Works with Nest" program and that there is no formal arrangement between it and Nest. It is exploring the technical possibilities at this stage.