Philips Cinema 21:9 HDTV Reviewed: "Superb"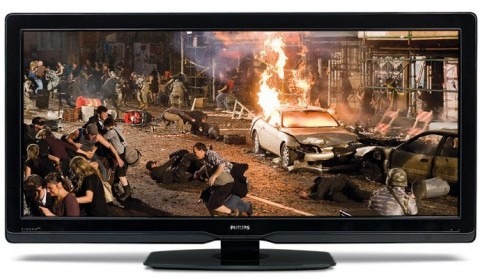 When your HDTV is a one-of-a-kind ultrawide 56-inch display with a £4,500 ($7,318) price tag, you'd better hope it rates well in reviews.  Thankfully Philips' indecently broad Cinema 21:9 56PFL9954H does just that; according to TechRadar, the 1080p high-def set delivers "the best aspects of the finest sets" they've ever seen.
Coming in for particular praise are the Ambilight Spectra 3 system, which backlights the HDTV with matched LED lighting, plus the straightforward installation and slickly designed UI.  Sound is "well rounded, faithful and genuinely muscular" thanks to integrated subwoofers.
Most importantly, though, the image quality is excellent, as long as you're feeding it a decent source.  That needn't just mean 1080p; the Cinema 21:9 copes admirably with standard definition DVDs, but Freeview is blocky and shows all the artifacts you'd expect.  All in all, a stormer of an HDTV; it's just a shame that the price will put it out of reach of most buyers.