Philips 27-inch monitor touts NVIDIA G-Sync for a better gaming experience
NVIDIA has been hard at work at trying to usher in a new age of gaming experience. Answering the graphics chip maker's call, Philips has just unveiled a new 27-inch monitor that's designed to bring out the best gaming visuals courtesy of NVIDIA's fancy new G-Sync chip.
From a spec sheet point of view, the new Philips 272G5DYEB looks unexciting and has what you'd expect from high-end gaming displays. You've got a spacious 27-inch screen with a resolution of 1920x1080. It can display up to 16.7 million colors, boasts of a 300 cd/cm² brightness and a contrast ratio of 1000:1. Viewing angles are quite large, at 170° on the horizontal and 160° on the vertical axis. Of course, those features alone won't be enough to make buyers take note of this monitor.
What makes Philips' gaming monitor special is that it is one of the first new breed of displays that integrate the NVIDIA G-Sync module. Those who are unfamiliar with the benefits that G-Sync brings might do well to read our short material on the technology. In a nutshell, G-Sync tries to solve the age old problem of having to choose between tearing and stuttering. NVIDIA tries to accomplish this by introducing a dedicated chip that sits in between the monitor and the GPU, NVIDIA's, naturally, to deliver the smoothest and most fluid graphics without the lag brought about by V-Sync.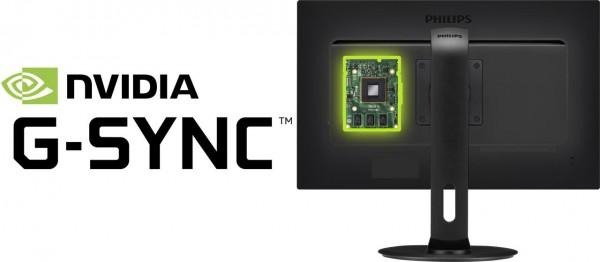 Of course, G-Sync doesn't exist in a vacuum and isn't a standalone card like a graphics card. Instead, it has to be built into the monitor itself. NVIDIA has partnered up with some of the leading monitor makers, including Philips, in order to spread the word about G-Sync. We expect other manufacturers to make similar announcements soon as CES 2014 progresses.
Those holding off from buying a new monitor might want to wait a bit longer if they're eyeing this particular model. The Philips 272G5DYEB won't be available until spring this year. That might be just enough time to save up the $649 that will be needed to purchase this piece of equipment.