Philips 21:9 52-inch LCD gets priced and dated in UK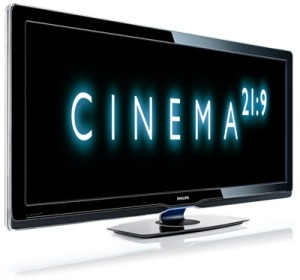 Philips is on the roll with technology headline today, says my News Reader – their Glasses-Free 3D technology gains support in US, and its first NET TV are debuting in UK. This one wouldn't top the last two, but a follow-up to another Philips product that've been captivating Home Cinema fans worldwide since it broke cover.
Philips has priced out the unprecedented 21:9 Cinema LCD and announced a June release in UK. The 52-inch ultra wide Cinema display will cost you €4000 (£3535/$5044), It's slightly expensive for nowadays cost per viewing inch displays but none of them offer you a true anamorphic widescreen aspect like the Philips.
Traditionally, AV equipments are retailed more in Europe than here, don't be surprise to see a $4000 or less suggested retail when the 52-inch 21:9 makes its way to US.