Phenom Dream watch-phone: dual-SIM but no 3G

We're not going to let Phenom Communications get away with calling their Dream watch-phone "elegant", but we'll concede that it's pretty advanced for its ilk.  The $395 wrist-worn handset has a 1.3-inch color touchscreen and separate numeric keypad, but Phenom have managed to squeeze two SIM slots inside.  Unfortunately, it seems that decision meant there was no room for a 3G radio, so you're stuck with quadband GSM/GPRS.
You do get a 1.3-megapixel camera, microSD card slot (content with up to 2GB chips), Bluetooth, vibrate alert and an FM radio.  There's also SMS/MMS support, a media player app for photos, audio and video, and a speakerphone.
Sadly the battery is only good for up to two hours talktime or 120 hours standby, which somewhat undermines Phenom's suggestion that this is the ideal two-line option for the frequent traveller.  Still, it looks slightly less rubbish than a lot of watch-phones we see, and it's cheaper than LG and Samsung's respective versions, so if you're desperate to strap a cellphone to your arm, Phenom is an option.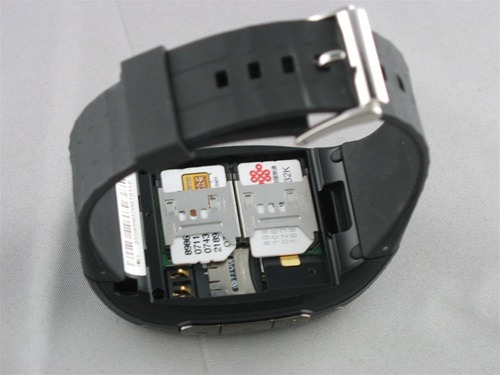 Press Release:
Phenom Unleashes Super Advanced, Elegant Watch Phone: A Quad-Band, Dual SIM Cell Phone Watch that Works Almost Anywhere in the World

Holiday dreams do come true. The Phenom Watch Phone "Dream" is a quad-band, dual SIM cell phone watch, MP3 & video player, digital and video camera all in one, cool-looking wrist watch! Made for executives, the Dream works almost anywhere around the world. enabling users to have two phone numbers in one, sleek device.

The Dream is our most exclusive model – it comes in sophisticated "night black" and is the couture of watch phones – at a still very reasonable holiday promo price of just $395.

New York, NY (PRWEB) November 24, 2009 — Holiday shopping won't disappoint this year as Phenom Communications Inc. launches the Dream: an unlocked cell phone watch enabling consumers to have two SIM cards and two phone numbers in one cool-looking, elegant watch phone. The Dream offers super advanced quad band technology, and can be used almost all around the world. It also features an external key pad, a full color touch screen, MP3 and video player, digital and still camera, USB drive and much more – all on your wrist.

Phenom Dream

"The Dream is our most advanced model, geared for the sophisticated world traveler who values cutting edge technology, functionality, and elegance," said Mati Herbst, Phenom Communications CEO. "The success we've had since launching the Phenom Watch Phone inspired us to go to the next level. Top designers, engineers, behavioral and usability experts came together to produce this high-end watch phone, using design elements and materials found in the most exclusive watches. Executives can wear it on any occasion while enjoying Phenom's unparalleled technological features."

With the Dream you can have one number for business and one for family and friends, you can choose your preferred carrier at anytime and you can use a local SIM card when travelling abroad while continuing to receive calls from your home base number.

The Phenom Watch Phone Dream has up to 2GB memory and a full-color, fully functional touch screen, built in USB port and speaker phone. "With a simple switch of the SD card, customers never run out of their favorite music or video." Phenom Spokesperson Jane Levit adds, "The Dream is our most exclusive model – it comes in sophisticated "night black" and is the couture of watch phones – at a still very reasonable holiday promo price of just $395."

Other Phenom Watch Phone Models include the SpecialOPS and Mi5 Watch Phones . Both models are fully functional unlocked GSM cell phones and work with most cell phone GSM carriers, have color touch screens, built in microphones and speakers, MP3 and MP4 players, and digital and video cameras. With all Phenom Watch Phones, you can take notes with the compact stylus or record dictation on the run.

Phenom Watch Phone is a product of Phenom Communications Inc., a technology company that specializes in communications and IT products and services. Based in the United States, and with offices in Europe and China, Phenom brings consumers and businesses the most advanced and cutting-edge technology innovations and services. Phenom's vision is that technology should be fun and practical, making life and business easier and more efficient.
[via iTechNewsNet]