Peugeot Instinct Concept self-driving car uses IoT to learn your likes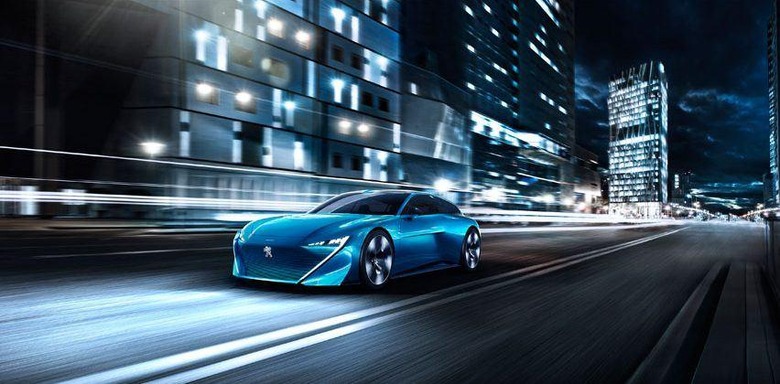 You're nobody in the automotive world if you don't have a fancy autonomous car concept that promises to work with the meat inside rather than just replace them, and now Peugeot's time has come. The French automaker has used Mobile World Congress 2017 this week to unveil the Peugeot Instinct Concept, hooking up with Samsung for some Internet of Things magic. Unlike most self-driving cars, which prioritize getting you from A to B as quickly as possible, the Peugeot believes there'll be times you want to take the scenic route.
So, there are four modes envisioned: two are for when the driver themselves takes the controls, and two for when the car is in charge. Drive Boost switches all the drivetrain settings to their most dynamic – Peugeot isn't actually saying what engine specifically it envisages being under the metal of such a car, but suggests a PHEV in the region of 300 HP, with all-wheel drive – while Drive Relax introduces more semi-autonomous, or Advanced Driving Assistance Systems (ADAS), to offset the hassle of the commute. That includes things like auto-headlamps and adaptive cruise control.
When the Instinct Concept is driving itself, meanwhile, there are two counterpart modes. Autonomous Sharp focuses on "precise, efficient road handling" Peugeot says, aiming for the swiftest possible journey. When you have time to spare, Autonomous Soft mode prioritizes comfort and the pleasure of the drive itself, even taking a longer route so the passengers inside have a more peaceful ride or can finish watching a movie or napping.
The drive, unsurprisingly, gets to switch between regular and autonomous modes, but decisions around everything else have been handed over to the artificial intelligence (AI). Peugeot has worked with Samsung and its ARTIK cloud, pulling in personalized data not only from how people use their cars but other connected devices in the home. That could extend to smart TVs, audio streaming speakers, a virtual home assistant like Google Home or Amazon Echo, a smartwatch, smartphone, or even social media use.
Combined with details of regular journeys, favorite places, and patterns in how drivers operate the car – including whether you're a speed-demon or more relaxed behind the wheel – the Instinct Concept can adapt to suit. As well as precise driving mode, it can adjust its seat and interface settings, the ambient lighting, and entertainment system. It's a little like the social monitoring Toyota has talked about before, though a whole lot more extensive.
The cabin itself – dubbed Responsive i-Cockpit – has an adjustable dashboard which switches modes based on whether the car is in Drive or Autonomous. An "i-Device" controller is used to navigate a 9.7-inch display in either mode, and there's also a chatbot for interacting with the car's AI via spoken command instead. Unlike some of the more outlandish autonomous concepts we've seen in recent months, Peugeot's exterior proportions are more traditional.
However, that's not to say there isn't some showmanship. The stereo cameras at the front of the car have been integrated into each of the headlamps, for instance, which Peugeot says is to give the Instinct Concept visual "eyes" as it scans the road ahead. The semi-hollow grille has the automaker's traditional lion logo, which is underlined in white when the car is driving itself.
Of course, actually getting from this sort of show car to a production vehicle is a fairly long journey. Peugeot is making no commitments about actually launching the Instinct Concept as a production vehicle, but the PSA Group of which it's a part has already secured permissions for real-world self-driving tests with "non-experts" behind the wheel. Those trials will kick off in March 2017, with autonomous technology making it to production cars from Peugeot and Citroen from 2020.