Pentax X90 162.5x Intelligent Zoom Camera Outed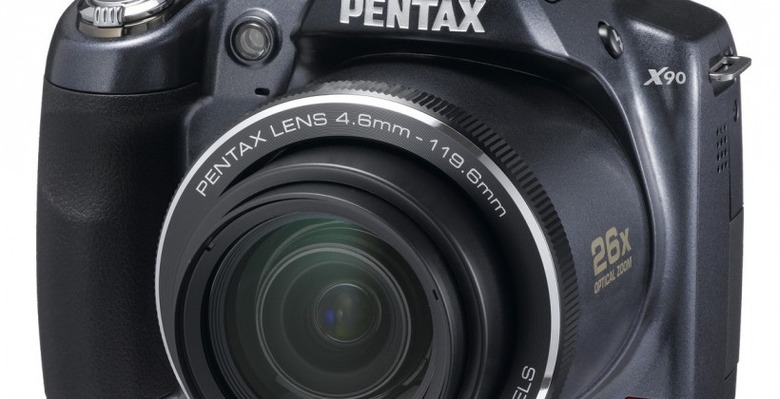 We may receive a commission on purchases made from links.
How much zoom is too much zoom?  That's something you'll have to ask Pentax, whose new X90 camera – the successor to the Pentax X70 – boasts a 26x optical zoom and a special "Intelligent Zoom" feature that, they reckon, can extend it to 162.5x "without compromising the optical performance".  Behind that long-stretching lens there's a 12.1-megapixel sensor and both optical and digital anti-shake systems.
There's also a face recognition system that can spot up to 32 different faces in 0.03 seconds, even if they're tilted or turned sideways, and adjust the autofocus and autoexposure, while there's also the somewhat bizarre sounding "Small Face filter" "which makes the subject's face appear slightly smaller than in reality."  We're guessing that's for those people paranoid they have fat heads.
Seven auto-picture modes, 720p HD video recording (with a micro-HDMI output) and a battery good for up to 255 shots on a single charge round out the main specs, and if you're not feeling the zoom lens then there's a 1cm macro mode for extreme close-ups of another kind.  The press release lacks both a ship date and pricing, but over at Amazon the Pentax X90 is already listed for preorder at $399.95.