Pentax Q interchangeable lens camera grabs "world's smallest" title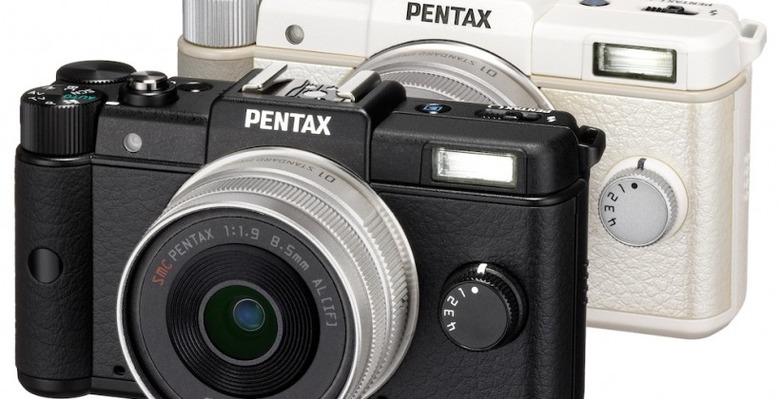 Pentax has outed its new interchangeable-lens camera, the Pentax Q, and it has whipped the "world's smallest" titles from out from under the nose of the Sony NEX-C3. The 12.4-megapixel Q has a 1/2.3 inch backlit CMOS image sensor and uses a new Q mount system; there's in-camera HDR, Full HD 1080p 30fps video recording, sensor-shift shake reduction and 5fps continuous shooting.
Pentax has also thrown in a clever dog-leg style pop-up flash, which the company reckons has a 28-degree wide angle field of view along with 23 foot effectiveness at ISO 200. A Quick Dial settings wheel on the front of the camera can be preset to the Q's various auto, scene, effects and other modes. There's also a Bokeh Control filter and shutter speeds ranging from 1/2000 to 30 seconds.
Ports include HDMI, USB and an SDHC memory card slot, while the display is a 3-inch HVGA panel. As for lenses, Pentax is launching the Q mount system with four options (aside from the PENTAX 01 Standard Prime kit lens): the 02 Standard Zoom ($299.95), a 27.5-83.0mm zoom lens with a 30cm focusing distance; the 03 Fish-Eye ($129.95), a 160-degree lens, and the 04 Toy Lens Wide and 05 Toy Lens Telephoto ($79.95 each), offering a 35mm equivalent field of view and a 100mm field of view respectively.
The Pentax Q will go on sale in Japan initially, then follow on in the US in the fall. It will be priced at around $800 as a Prime lens kit, and in black or white. Other accessories include an External Viewfinder (EVF) which will be $249.95.