Pentax Optio I-10, H90 and E90 get official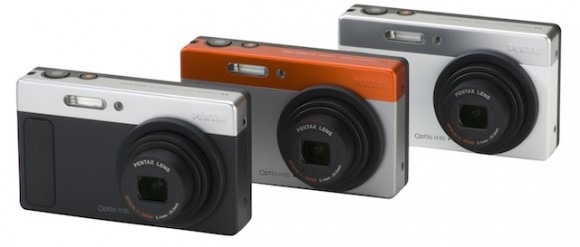 We'll never know whether Pentax intended to officially announce their three latest digital cameras today, or if they were pushed by yesterday's leak, but in the end we're just happy to see more details about the trio.  The Pentax Optio I-10, Optio H90 and Optio E90 will all begin shipping next month, with the former two having a 12.1-megapixel sensors and 5x wide-angle optical zooms, while the latter – rocking the sub-$100 price point – gets 10-megapixels and a 3x wide-angle zoom.
The Pentax Optio I-10 represents the first of the company's new I-series models, and puts point-and-shoot guts into a traditional SLR-shaped body.  There's a 2.7-inch LCD, flash and speaker, together with 720p 30fps HD video recording mode and mechanical anti-shake technology.  Pentax have also developed a face-detection system that can recognize up to 32 faces, including those of dogs and cats.
As for the Pentax Optio H90, that has similar specifications to the I-10 but a smaller body, while the Pentax Optio E90 comes in at the budget end of things with a rubber-coated casing, AA battery compatibility and digital anti-shake tech.  The Optio I-10 will be priced at $299.95, the Optio H90 at $179.95 and the Optio E90 at $99.95.
Press Release:
PENTAX UNVEILS THREE NEW DIGITAL CAMERAS

OPTIO I-10 AND OPTIO H90 KICK-OFF NEW PRODUCT LINES AND AFFORDABLE OPTIO E90 PRICED UNDER ONE HUNDRED DOLLARS

GOLDEN, CO. (January 25, 2010)...PENTAX Imaging Company announced three new digital cameras with designs so unique that not one can be labeled as "just another silver digital camera."

Most unique is the slim and stylish PENTAX Optio I-10 with a design inspired by the classic look of film SLR cameras. This head-turning first model in the new Optio I line features a flash unit and speaker in the upper mid-section of the SLR-shaped body while the camera's front panel is embellished with high quality leatherette texture and the classic PENTAX logo placed front and center. The Optio I-10 features a wide angle, 5X optical zoom lens (28mm-140mm equivalent), a 12.1 megapixel high resolution CCD sensor, a 2.7 inch widescreen LCD, and HD video capture at 720p and 30 FPS. For optimal image capture, the camera features a mechanical sensor shift Shake Reduction system and improved Pixel Track Shake Reduction technology for blur-free images as well as Smile Capture, Blink Detection and improved Face Detection that spots up to 32 faces including dogs and cats. The Optio I-10 is remote control compatible (sold separately) and will ship in February 2010 in a choice of Classic Black and Pearl White for $299.95 USD.

PENTAX also announced the Optio H90 digital camera with a clean, contemporary design that is as in style in a museum of modern art as at a concert or sporting event. Developed with the concept of "functional beauty" in mind, the fashionable and affordable Optio H90 offers a full assortment of features to capture a variety of subjects and scenes. This first model in the new Optio H line features a wide angle 5X optical zoom lens (28mm-140mm equivalent), a 12.1 megapixel high resolution CCD sensor, and widescreen HD video capture at 720p and 30 FPS. Improved Pixel Track Shake Reduction technology captures blur-free images and the Face Detection, Smile Capture, and Blink Detection functions help users create better portraits. The Optio H90 will ship in February 2010 in a choice of Orange-Silver, Matte Black and Ceramic White for $179.95.

Both the PENTAX Optio I-10 and Optio H90 offer Eye-Fi connectivity capability for use with Eye-Fi wireless memory cards.

The latest model in the easy-to-operate, affordable Optio E series is the PENTAX Optio E90. Priced at just $99.95 USD, the Optio E90 features a 10 megapixel CCD, a 3X wide angle zoom (32mm-96mm equivalent) and a large 2.7 inch LCD housed in a luxurious rubber coated body for a sure grip. The Optio E90's features a travel-friendly design with AA battery compatibility. Auto Picture mode selects the best shooting settings for the scene, and a high 6400 ISO that freezes subject movement in Digital SR (Shake Reduction) mode. The Optio E90 features an intelligent ergonomic design with a sure grip and an easy menu that makes the E series a popular choice. Available in Black and Wine Red, the Optio E90 will ship in February 2010.

Each model is available for pre-order now on the www.pentaxwebstore.com

PENTAX Imaging Company is an innovative leader in the production of a variety of digital cameras including weather resistant digital SLRs and stylish, compact, waterproof cameras, as well as lenses, flash units, binoculars, scopes, and eyepieces. For 90 years, PENTAX has developed durable, reliable products that meet the needs of consumers and businesses. With headquarters in Golden, Colorado, PENTAX Imaging Company is a division of PENTAX of America, Inc.