Pentax KP APS-C DSLR is weatherproof, packs many K-3 features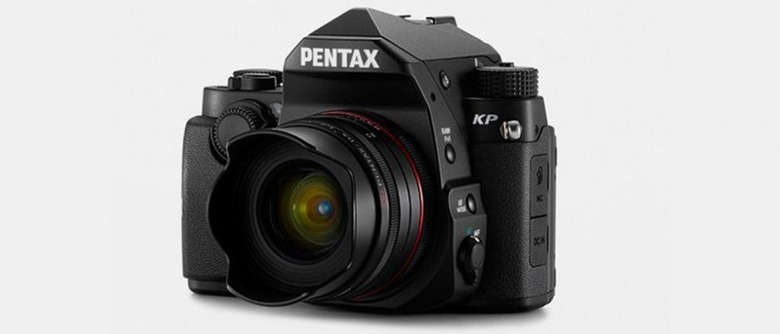 Ricoh has unveiled its new Pentax KP, a slim weatherproof DSLR camera designed for outdoor use. According to the company, this new model packs many of the same features found in the Pentax K-3 model, and is the brand's first APS-C camera to feature the five-axis Shake Reduction II system. Ricoh bills this model as an option for anyone who needs a camera for uses spanning 'casual snapshots' to serious outdoor photography.
The Pentax KP features a 24-megapixel CMOS sensor that, says Ricoh, is highly suitable for extremely low-light environments thanks in part to its 819200 ISO. The company included an electronic shutter option for this camera for rapid shots — high-speed photography is made possible with supported shooting speeds up to 1/24,000-second. This, when paired with a large aperture lens, provides shallow depth of field in bright environments.
Despite being a robust DSLR offering, Ricoh boasts the KP's internal redesign enables these features to be packed into an 'extremely slim profile' for easier handling and portability. Because the camera is targeted at outdoor use in particular, it is weather-sealed with capabilities to withstand temps down to 14F. The camera is also dustproof and rugged.
Other camera features include a vertical-tilt LCD, a grip replacement system for selecting grip preference, a combination of dials, button settings, and control panels, as well as Pixel Shift Resolution and that aforementioned 5-axis Shake Reduction System. There's also an optional GPS module that helps improve astrophotography.
Ricoh says the Pentax KP will be available starting on February 25 in North America for $1,099.95 USD.