Pentax K-7 DSLR launches: 14.6MP & HD video for $1.3k [Video]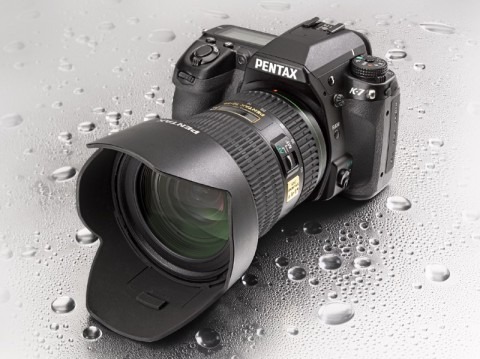 As promised, Pentax have unleashed their latest DSLR, the 14.6-megapixel K-7.  Pairing the new CMOS with the PRIME II imaging engine, the K-7 is also the first of the company's DSLRs to support high-definition video recording.  Where many rivals top out at 720p, the Pentax can climb all the way to 1,536 x 1,024 at 30fps (3:2 aspect; 16:9 720p is also supported), and has an HDMI output for easy viewing.
Video demo after the cut
The 3-inch 921,000 pixel resolution LCD supports Live View and there's a new composition adjustment feature which allows for minor shifts in framing without actually moving the DSLR itself; instead, the Shake Reduction mechanism is used to tweak the composition.  Pentax have also thrown in a dedicated AF-assist lamp, electronic level and in-camera lens correction that can adjust for distortion and lateral chromatic aberrations when used with DA series lenses. 
Perhaps most impressive, though, is the High Dynamic Range mode, which snaps three images one after the other and then automatically combines them so as to widen the exposure gamut and highlight detail across the frame.  There's also 5.2fps shooting, 1/8000 sec shutter speed and 11-point autofocus, plus weather, dust and cold-resistance.
The Pentax K-7 DSLR will ship in July, priced at $1,299.95 for the body alone.  Meanwhile the D-BG4 battery grip (which doubles runtime with its rechargeable Li-Ion battery, or can alternatively use 6 AA batteries) will retail for $229.95.  Pentax also have a range of weather-resistant lenses – the smc DA 18-55mm F3.5-5.6 AL WR and the smc DA 50-200mm F4-5.6 ED WR – which will retail for $199.95 and $249.95 respectively.
Press Release:
PENTAX INTRODUCES ADVANCED PENTAX K-7 DIGITAL SLR

New Camera Boasts Variety of Technological Firsts and Major Improvements Over Previous K Series Cameras

GOLDEN, CO. (May 20, 2009)...PENTAX Imaging Company announced today the launch of the PENTAX K-7 digital SLR camera. This latest PENTAX K series camera is designed for advanced photographers seeking high-end design and features without the cost of a professional DSLR system. The PENTAX K-7 features a rugged, yet compact new body design, a new 14.6 megapixel CMOS sensor rebuilt from the ground up, and advanced features such as HD Movie Capture and new, unique-to-PENTAX camera controls. Compatible with every PENTAX lens ever made, the high-end K-7 features an abundance of long-anticipated new and improved features that are exclusive to the camera and combine to make it a tremendous photography tool.

"The K-7 will appeal to many current PENTAX SLR photographers who have been asking for more advanced features, but in a smaller, solid, comfortable-to-hold body," said Ned Bunnell, president, PENTAX Imaging Company. "We also believe the combination of the K-7's smaller, high quality construction coupled with the growing line-up of our Limited compact prime lenses will appeal to serious shooters who currently don't own or previously hadn't considered adding a PENTAX to their camera bag."

The most significant features of the PENTAX K-7 that have never been offered before in any K series digital camera, and in some cases any camera, include:

• A compact, magnesium alloy body that is one of the smallest in the advanced photo enthusiast category to reduce bulk and allow users to travel light while maintaining durability and build quality (seven percent smaller than the K20D and up to 25 percent smaller than other cameras in the same class).

• A new 14.6 megapixel CMOS sensor rebuilt from the ground up to minimize noise, adds four channel output for fast image capture, and the ability to capture HD quality movies. It is the ideal combination of resolution and file size, allowing very large (poster size and larger) prints and cropping flexibility.

• A new 77-segment metering system quickly and accurately determines exposure for even the most complex and dynamic lighting situations.

• HD Movie capture features adjustable quality and resolution settings, aperture control, as well as mechanical Shake Reduction, and an external microphone terminal for recording stereo sound.* The K-7 will capture video at the default standard of 1280x720 resolution with a 16:9 aspect ratio (equivalent to 720p), 1536x1024 resolution with a 3:2 aspect ratio, or 640x416 resolution with a 3:2 aspect ratio (equivalent to VGA quality), all shot at 30 frames per second.

• An HDMI port with selectable output resolution (1080i, 720p, 480p, and auto) offers high resolution playback of images and video on modern high definition TV's.

• A Dedicated AF-assist lamp further improves autofocus response and accuracy in low light conditions.

• An Electronic Level function ensures that images have truly level horizons to minimize post-capture editing.

• An innovative in-camera Lens Correction function that electronically adjusts for Distortion and Lateral Chromatic Aberrations to maximize image quality with DA series lenses.

• A dedicated Mirror Lock-up function eliminates image blur due to mirror movement during long exposures.

• A High Dynamic Range (HDR) image capture mode captures three images then combines them in camera to widen the exposure gamut to bring out detail in all exposure areas of images.

• A composition adjustment feature in Live View allows minor shifts in the framing and composition of images using the Shake Reduction mechanism without having to physically move the camera. This feature is ideal for tripod use.

• A programmable embedded copyright function preserves artistic integrity and image ownership during capture via a keypad that may record ownership in metatag data.

*Due to the compact size of the K-7 camera and the in-body Shake Reduction mechanism, a camera mounted microphone is a highly recommended accessory for optimal audio quality when capturing video.

A variety of K series camera features that are significantly improved in the PENTAX K-7 include:

• A striking 3 inch LCD with 921,000 dot resolution is perfect for detailed image or movie capture and review using the Live View function.

• A weather, dust and cold resistant (to 14° F or -10° C) body makes the K-7 the perfect camera for use in any environment, inside the studio or when travelling in any weather.

• Fast 5.2 frame-per-second shooting with a new PRIME II Image processing engine, which features fast circuitry and 4 channel output that is ideal for sporting events or any fast action situation.

• A top shutter speed of 1/8000 sec freezes even the fastest action in well lit settings.

• Live View mode, now with contrast AF, Face Detection, and optional histogram, grid, and bright/dark area display, allows you to quickly compose your images without having your eye against the viewfinder.

• A 100 percent field-of-view viewfinder (92X magnification) and bright focusing screen are ideal for accurate image composition and accurate focus.

• The PENTAX 11-point autofocus system features improved focus algorithms over previous generation K series DSLR cameras, providing faster, more responsive AF.

• The PENTAX-original Shake Reduction system now compensates for rotational sensor movement improving the sharpness of your images at the moment of capture.

• The K-7's Dust Reduction system, improved over previous K series cameras, features a piezo-ceramic vibration action to the sensor's low-pass filter for dust-fee image capture.

• A new high capacity battery features extended battery life, ideal for travel photography or video work.

• Advanced image capture settings, digital filters, and aspect ratio provide outstanding flexibility and creativity while minimizing the need for computer image manipulation.

• Custom Image modes with advanced parameter settings including new Key adjustment allow users to customize the processing mode to suit personal creative style.

(more)

Other K series innovations featured on the PENTAX K-7 include:

• Multiple exposure settings, including Green, Program, Sv, Tv, Av, TAv, M, Bulb, X-sync, and USER modes, provide extensive creative control over the exposure for photographers of all experience levels.

• Advanced white balance settings include highly customizable white balance fine tuning, color temperature adjustment, and post image capture manual white balance selection for perfect pictures in even the most difficult lighting.

• Dynamic Range setting with adjustable shadow correction brings out hidden or lost details in both highlights and shadows for even the highest-contrast, dynamic lighting.

• Dedicated PC socket for studio flash offers convenience for the studio photographer without adding hot shoe adapters.

• Advanced capture options include multi-exposure and interval shooting for creative special effects and time-lapse photography.

Along with the body, PENTAX announced a D-BG4 battery grip for exclusive use with the PENTAX K-7. This battery grip may be used in combination with the camera's rechargeable lithium-ion battery to double camera's battery life. The D-BG4 also accepts 6 AA batteries in a alternate battery tray for added freedom when shooting in the field. With a vertical shutter-release button, e-dials, AE-lock and a new focus button, the grip features the same weather-resistance, dustproof and coldproof construction as the PENTAX K-7.

PENTAX also announced two weather-resistant lens models developed specifically for PENTAX digital SLRs. The smc DA 18-55mm F3.5-5.6 AL WR and the smc DA 50-200mm F4-5.6 ED WR kit lenses feature weather-resistant seals to handle damp, inclement conditions. Complementing K series camera bodies, both lenses blend versatility with affordability, giving the casual photographer a broader canvas without having to carry a multitude of lenses.

The PENTAX K-7 body only will ship in July 2009 for $1,299.95 USD. The PENTAX D-BG4 battery grip also will ship in July 2009 for $229.95. The newest weather-resistant lenses will be priced at $199.95 for the DA 18-55mm and $249.95 for the DA 50-200mm. These products also will ship in July 2009.

Every PENTAX K-7 purchased includes an exclusive coupon for up to 15 percent savings on a variety of PENTAX products. More information about all of these products is available at: www.pentaximaging.com and preorders may be placed now at www.pentaxwebstore.com.

Enjoy a preview of the PENTAX K-7 and the advanced features the camera offers on the PENTAX youtube.com channel http://www.youtube.com/pentaxian1. Images are available here: http://www.pentaximaging.com/press/pressfiles.html. Professional photographers interested in equipment loans may learn more about the PENTAX Pro Program by calling 1-800-877-0155.

PENTAX Imaging Company is an innovative leader in the production of a variety of digital cameras including weather resistant digital SLRs and compact, waterproof cameras, as well as lenses, flash units, binoculars, scopes, and eyepieces. For almost 90 years, PENTAX has developed durable, reliable products that meet the needs of consumers and businesses. With headquarters in Golden, Colorado, PENTAX Imaging Company is a division of PENTAX of America, Inc.

Specifications:

CAMERA HARDWARE

MODEL: K-7

TYPE: Digital SLR

PRODUCT CODE:

Body Kit: 17811, UPC: 027075155145

SENSOR

Type: CMOS with primary color filter and integrated Shake/Dust Reduction sensor movement system

Size: 23.4 x 15.6mm

Color depth: 8 bits/channel JPG, 12 bits/channel RAW

Effective pixels: 14.6 MP

Total pixels: 15.07 MP

Recorded resolutions

Still: 14M 4672x3104, 10M 3936x2624, 6M 3072x2048, 2M 1728x1152

Movie (resolution/FPS): 1280x720p30, 1536x1024p30, 640x416p30

Quality levels:  Premium,  Best,  Better,  Good

Dust Removal: Supersonic vibration to low pass filter

LENS MOUNT

Type/construction: PENTAX KAF2 bayonet stainless steel mount

Usable lenses: PENTAX KAF3, KAF2, KAF, and KA (K mount, 35mm screwmount, 645/67 med format lenses useable w/ adapter and/or restrictions)

SDM function: Yes

Power zoom function: Yes

FOCUS SYSTEM

Type: TTL phase-difference 11 point (9 cross) wide autofocus system (SAFOX VIII+)

Focus modes: AF Single (w/ focus lock), AF Continuous, Manual

Focus point adjustment: Auto, user-selectable, center

AF assist: Yes, via dedicated AF assist lamp with SAFOX VIII+ system

VIEWFINDER

Type: Pentaprism

Coverage (field of view): 100%

Magnification: 0.92X (w/ 50mm F1.4 at infinity)

Standard focusing screen: Natural-Bright-Matte III

Diopter adjustment: -2.5 to 1.5

Depth of field preview: Optical (diaphragm stop down), Digital

LCD MONITOR

Type: 3.0" TFT IPS (In Plane Switching) color LCD with brightness/color adjustment and AR coating

Resolution: 921,000 dots

Wide angle viewable: Yes

LIVE VIEW

Type: TTL by CMOS image sensor

Field Of View: 100%

Display Modes: Magnification (2-6X AF, 2-10X MF), grid pattern overlay

Autofocus: Yes, contrast w/ face detection, contrast, phase difference

BUILT-IN FLASH

Type: Retractable P-TTL popup flash

Guide number: 13 (100/m)

Coverage: 28mm wide angle (equivalent to 35mm)

Flash modes: On, redeye, slow sync, slow sync + redeye, trailing curtain sync, wireless

Flash exposure compensation: -2 to 1 EV in 1/2 steps

EXTERNAL FLASH

Type: Hotshoe (P-TTL, high speed sync available), wireless with PENTAX dedicated flash, X-sync socket

Synchronization speed: 1/180 sec

STORAGE MEDIA

Internal memory: n/a

Removable memory: SD, SDHC

INTERFACES

Ports: USB 2.0 hi-speed, AV out, HDMI out, DC in, cable switch, 3.5mm stereo microphone

Video out: HD (1080i30, 720p30, 480p30), NTSC, PAL

Printer interfaces: n/a

POWER SUPPLY

Power source: Rechargeable Li-Ion battery D-LI90, D-BG4 Battery Grip (optional) for second D-LI90 battery or 6X AA batteries

Recordable images: Approx 980 (approx 740 w/ 50% flash, CIPA)

Playback time: Approx 440 min

AC adapter available: Yes (optional)

PHYSICAL SPECIFICATIONS

Body dimensions (W x H x D): 5.1 x 3.8 x 2.9"

Body weight

Without battery or removable memory: 22.9 oz

Loaded and ready: 26.5 oz

Construction material(s): Magnesium alloy shell over stainless steel chassis

Operating temperature: 14-104°F (-10 to 40°C)

LANGUAGE SUPPORT

English, French, German, Spanish, Portuguese, Italian, Dutch, Danish, Swedish, Finnish, Polish, Czech, Hungarian, Turkish, Greek, Russian, Korean, Traditional/Simplified Chinese, Japanese

IMAGE STABILIZATION

Type: Sensor-shift Shake Reduction with rotational compensation (4 stops max)

Electronic level function: Yes, verification via viewfinder and top LCD panel

METERING SYSTEM

Type: TTL open-aperture 77 segment metering

Sensitivity range: EV 0 to 22 (ISO 100, 50mm F1.4)

Multi-segment: Yes, 77 segments

Center weighted: Yes

Spot: Yes

Exposure compensation: +/- 5 EV (1/3 and 1/2 steps)

Exposure lock: Yes

Exposure bracketing: Yes, 3 or 5 frames, up to +/- 2 EV (1/2 or 1/3 steps)

ISO SENSITIVITY

Auto: ISO 100-3200 (1, 1/2, 1/3 steps), Bulb mode up to ISO 1600, expanded range available to ISO 6400, auto ISO range selectable

Manual: ISO 100-3200 (1, 1/2, 1/3 steps), Bulb mode up to ISO 1600, expanded range available to ISO 6400

WHITE BALANCE*

Auto preset modes: Auto, Daylight, Shade, Cloudy, Fluorescent (D, N, W, L), Tungsten, Flash, CTE

Manual mode(s): Yes, manual and 3 color temperature selections available

* WB fine adjustment available in all modes

SHUTTER

Type: Electronically controlled, vertical run, focal plane shutter

Shutter speed: 1/8000 to 30 sec, bulb

CAPTURE MODES

Mode selection: Green, Program (P), Sensitivity Priority (Sv), Shutter Priority (Tv), Aperture Priority (Av), Shutter and Aperture Priority (TAv), Metered Manual, Bulb, X-Speed, USER, Movie

Green simplified mode available: Yes

P/A/S/M/B: P, A, S, M, B (extended modes Sv, TAv)

Date stamp: n/a

Digital filters (capture): Custom Image Function includes Bright, Natural, Portrait, Landscape, Vibrant, and Muted modes, each with gamut radar and fine adjustment of saturation, hue, high/low key, contrast, and sharpness (regular and fine adjustment scales). Monochrome mode includes adjustment for filter effects (green, yellow, orange, red, magenta, blue, cyan, infrared), toning (sepia warm/cool), high/low key, contrast, and sharpness (regular and fine adjustment scales). Other capture filters include Toy Camera, Retro, High Contrast, Extract Color, Soft Focus, Starburst, Fisheye, Custom Filter.

Data record: Folder name (standard, date), file name (standard, customizable), embed copyright

DRIVE MODES

Mode selection: Single, Continuous (Hi, Lo), Self-Timer (12s, 2s), Remote (0s, 3s, continuous), Bracketing (standard, timer, remote), Mirror Lockup (standard, remote), HDR Capture, Multi-Exposure, Interval

Continuous FPS

- 5.2 FPS (40 JPG Continuous Hi, 15 RAW PEF, 14 RAW DNG)

- 3.3 FPS (unlimited JPG Continuous Lo, 17 RAW PEF/DNG)

Self-timer: Yes (12s, 2s)

Remote control: Yes, infrared (0s, 3s, continuous) and cable switch

PLAYBACK MODES

Mode selection: One Shot (no data, basic data, full data, color channel histogram), Multi Image Display (4, 9, 16, 32, 81 thumbnails), Calendar Filmstrip, Folder, Magnification, Select & Delete, Movie Playback (no data, basic data, full data)

Mode pallet: Image Rotation, Digital Filter, Resize, Cropping, Slideshow, Save as Manual WB, RAW Development, Index Print, Image Comparison, Protect, DPOF

Magnification: Up to 32X, scrollable

Digital filters (playback): Toy Camera, Monochrome (filter effects, toning), Retro, Color (6), High Contrast, Soft Focus, Extract Color (6), Starburst, Water Color, Fisheye, Pastel, Slim, Miniature, HDR, Base Parameter Adj, Custom Filter

FILE FORMATS

Still: RAW (PEF, DNG), JPG (Exif 2.21), DCF 2.0 (design rule for camera file system), DPOF, Print Image Matching III

Movie (compression): AVI (Motion JPG)

CUSTOM FUNCTIONS

Functions available: 37