Penny-size frog found in India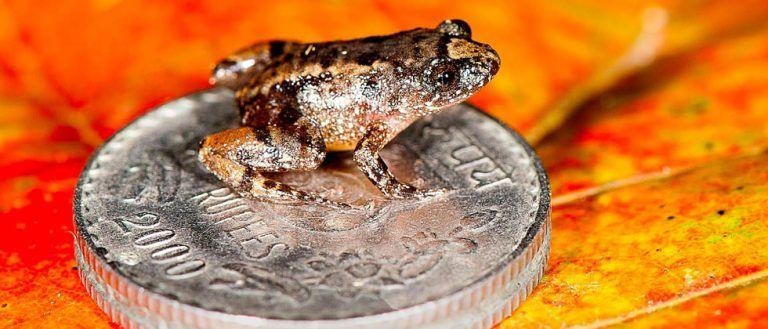 A 12-millimeter-long frog has been found in India amongst a total of 7 new species reported by scientists. Four of the new species of frog can fit comfortably on a penny. All seven of the new frog species are part of a group that live only in the Western Ghats mountain range in western India. This group of animals are collectively called Night Frogs.
The Western Ghats mountain range has turned over 28 individual Night Frog species. Most of these Night Frogs have only been discovered in the past 5 years. A massive 225 amphibian species live in the Western Ghats as of the year 2016, and 92% of these are endemic to this region.
Photos above and below come from SD Biju – one of several scientists and researchers included in this study. The 7 new species of frog shown in the study published this week included the following. Each of these new frog species was registered with ZooBank as follows:
• Nyctibatrachus athirappillyensis; urn:lsid:zoobank.org:act:4756A24F-60E1-4B85-956F-5FC3CE6B876F
• Nyctibatrachus manalari; urn:lsid:zoobank.org:act:9B10F3DA-07E4-4A78-B96B-C76C3C1578F6
• Nyctibatrachus pulivijayani; urn:lsid:zoobank.org:act:E4F167C1-8340-4779-8CEF-622AC7AB350C
• Nyctibatrachus radcliffei; urn:lsid:zoobank.org:act:0F9F1491-B1E0-4F4B-9946-0E21AA7E71C8
• Nyctibatrachus robinmoorei; urn:lsid:zoobank.org:act:DB413903-56B5-4D36-93B4-ABA3555CC99F
• Nyctibatrachus sabarimalai; urn:lsid:zoobank.org:act:4517569C-ECCA-49C9-B1C3-A1B6E4FD6F00
• Nyctibatrachus webilla; urn:lsid:zoobank.org:act:735BCF83-6BE0-4F2A-97E6-39BFCDA5B944
You'll notice at least one of these frogs has a name that appears to be a familiar connection of two names: Robin Moore. The photographer and researcher Robin Moore was responsible for the book "In Search of Lost Frogs" – very much along the same lines as the mission that's lead to this new set of frogs' discovery.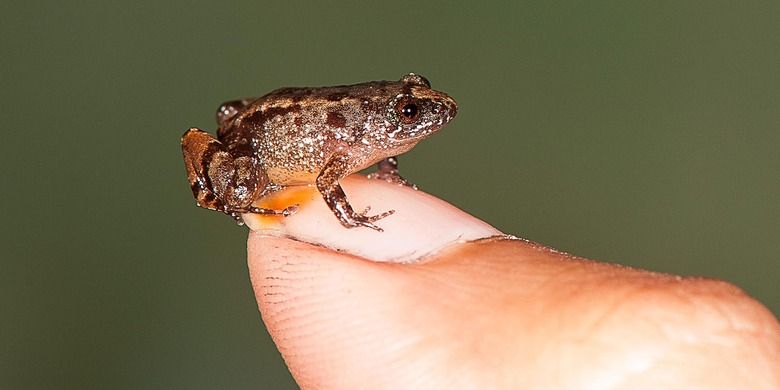 UPDATE: For those that asked – four of the frogs included in the study we're working with today are now amongst the smallest known frogs in India. The three miniature species known before this study, N. anamallaienesis, N. beddomii, and N. minimus, had a male SVL of 10.0–18.0mm.* The new species have a male SVL of 12.2–15.4 mm.
*SVL is Snout-to-Vent length.
UPDATE 2: For those that asked again, but more specifically this time – the smallest known frog in the entire world is is 7.7 mm long. That's the frog known as Paedophryne amauens of Papua New Guinea, per National Geographic.
To learn more about these frogs, see Garg S, Suyesh R, Sukesan S, Biju S. (2017) Seven new species of Night Frogs (Anura, Nyctibatrachidae) from the Western Ghats Biodiversity Hotspot of India, with remarkably high diversity of diminutive forms. PeerJ 5:e3007 in the scientific journal PeerJ
To learn more about a wide variety of frog-related stories, science, and research, check the timeline below. SlashGear just happens to have an impressive backlog of frog-related articles for your perusal!