Pebble smartwatch reportedly to be sold at Best Buy this month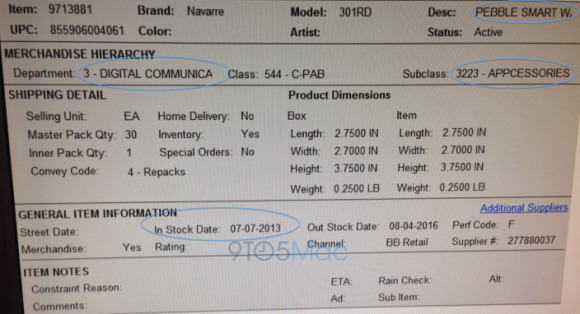 Pebble, the smartwatch that arguably started it all, will be sold in Best Buy stores starting this upcoming Sunday, July 7, according to a leaked internal document. The information was provided by two Best Buy store employees who claim the product is already included in the store's inventory system, with the inventory sheet showing it as a "digital communication appcessory".
The leak was sent to the folks over at 9to5Mac along with an image of the inventory sheet, which you can see above. It is possible the inventory sheet means the Pebble won't be shipping to stores until this weekend. Best Buy, however, usually launches its new offerings and whatever specials it has on Sundays.
Regardless of whether that date is when the product is received for Best Buy's inventory or will hit shelves, you should be able to pick the device from your local store by the end of next week (by this weekend, hopefully). If you look at the inventory image carefully, it seems to say that online availability won't be offered, but we'll have to wait for the device to launch to know for sure.
Pebble has been updated fairly regularly over the last year, having received an update for two-way app communication back in May, for example. Shortly before that, support for the watch was added to the well-known RunKeeper app – allowing users to use the smartwatch to check stats rather than their smartphone – in its latest iOS and Android update.
In April, the device's version 1.10 firmware was released, bringing with it support for third-party watchfaces, backlight-by-accelerometer, and some disabling options, among other things. Those who updated to the latest software also received a host of bug fixes and improvements in addition new features.
SOURCE: 9to5Mac