Pebble iOS 7 notifications update live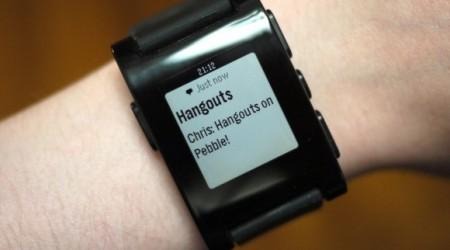 There's a brand new bit of firmware and software needed for the newest update in Pebble's smartwatch experience were released this afternoon in full. These updates for the watch and the iPhone bring the Pebble environment up to the place that was explained earlier this month, full iOS 7 notifications and all. Users will be able to receive notifications from this point forward from Facebook, Google+, Flickr, Flipboard, and more, straight through Pebble's full integration with Notification Center in iOS 7.
This update has officially been approved by Apple in the iTunes app store, meaning the newest version of the Pebble app – version 1.3 – is now live. Only a combination of downloads in the app and the firmware for the smartwatch itself will result in full integration with the newest wave of software features. Then – and only then – will you be able to see newly full notifications from Twitter, Instagram, WhatsApp, Dropbox, and LinkedIn too!
With this change-over comes a push for more developers than the (thousands) that've already begun working on Pebble-friendly apps. This month a Pebble SDK (Software Development Kit) version 2.0 has been launched for a total of four new APIs. These APIs work with Javascript, integration with Accelerometer Data, Data Logging, and Persistent Storage.
Of particular interest to the web in the very near future is the push for Javascript, as this update will allow coders to connect web apps to the watch with relative ease. For everyday users, the abilities included in this new SDK will start appearing later this year. The next big OTA (over the air) update will likely appear by the end of 2013 – in just a few weeks.
For now you'll b able to jump in on additional details – if you're still craving before actually updating – in our initial Pebble iOS 7 updates outline from earlier this month!