Pebble Update Brings Full iOS 7 Notifications; SDK 2.0 Ready To Roll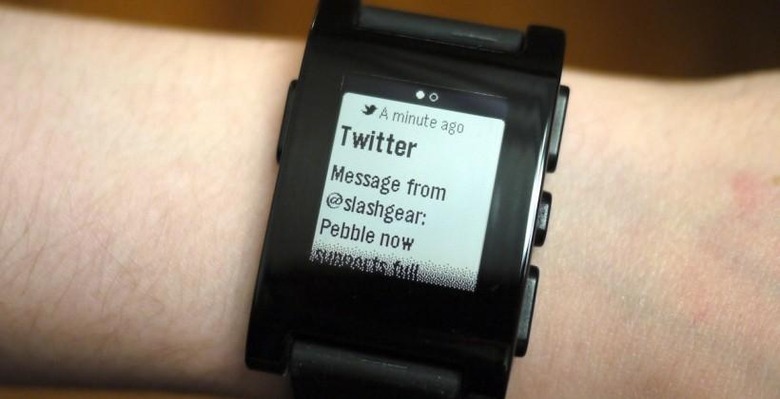 The smartwatch known as Pebble is seeing a software update today that brings on full iOS 7 integration – across iPhone, iPad, and iPod touch – for full notifications support, just as on Android. This update, which will be pushed out OTA to all users, adds in support for notifications that don't just include calls, emails, and texts as Pebble launched with, but also with calendar, Twitter, Google+, Instagram, and more – in fact, anything that shows up in Notification Center will be pushed to the smartwatch. Meanwhile, there are collaborations with some big names like GoPro and Foursquare to integrate with Pebble through the new SDK 2.0.
The full partner list for this first full iOS 7 integration software update for Pebble includes Dropbox, WhatsApp, LinkedIn, and Flipboard. You'll find Pebble also pushing for connections to additional apps in the near future, too – GoPro, Yelp, Foursquare, and iControl are in the works right this minute. The Yelp support, for instance, will show nearby venues like coffee shops and restaurants, with a shake of the wrist calling up a new suggestion.
GoPro, meanwhile, will turn the Pebble into a remote control for the range of action cameras, hooking up wirelessly. Since both Pebble and – with the right housing – GoPro cameras are waterproof, the two make a particularly obvious pairing, company founder Eric Migicovsky explained to us.
With the whole collection of apps that work as of this week, the user has full control over which notifications are seen on the watch: in short, if it's showing up on your iPhone's notification shade, then it'll show up on Pebble. It's possible to turn off the vibration on the phone if you'd rather just have it buzzing on your wrist, instead, though for the moment there's no way to filter alerts and have only a subset of notifications pushed to the smartwatch.
In addition, Pebble is rolling out a new software development kit for creators of all kinds. This Pebble SDK 2.0 brings on a collection of features never before available to the device. Four new APIs included in this SDK are Persistent Storage, Data Logging, Javascript, and access to the Accelerometer to make Pebble a fitness wearable. Apps will soon be able to store information on the watch itself, too, continuing to log data even if the watch (for whatever reason) becomes disconnected from the phone. So, if you're swimming, Pebble will keep recording your laps until it reconnects with your handset in the locker room.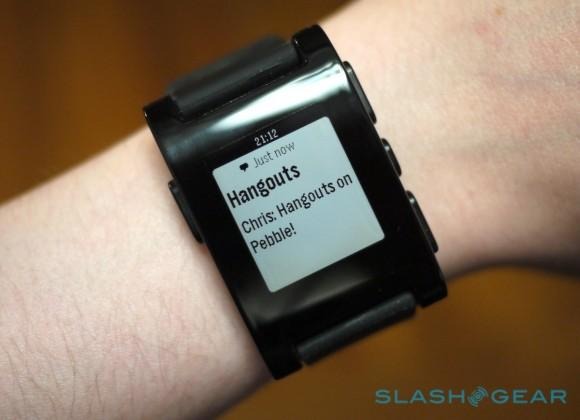 Apps will soon bring on interface connections direct with the web, too, thanks to Javascript support on Pebble. Rather than demanding separate apps for iOS and Android, as is the current situation, developers will be able to bridge Pebble with web apps using a small chunk of Javascript code, Migicovsky explained. Coders will still be able to release native apps, of course, but the process of linking a web service with the smartwatch will be considerably easier with this alternative method, not to mention platform-agnostic.
While the Pebble SDK 2.0 has immediate possibilities readied for developers, users of Pebble – you, the user – will soon see apps upgraded to the second generation of Pebble functionality. Initially, SDK 2.0 will be an opt-in beta, but Pebble expects to push it out as an OTA update to all users later this year.
It's also been shared this week by the Pebble team some rather impressive statistics surrounding the device. At this point in history there are 190,000 Pebble devices being worn by users around the world; 2 million apps and watch faces have been downloaded in total, while 2,200 apps and faces currently exist on the unofficial My Pebble Faces website. On the Google Play app store and iTunes appstore you'll find more than 50 "companion apps" for the watch, while the Pebble crew suggests that there are 10,000+ developers developing for Pebble today.