Peak Design Travel Tripod could be a photographer's must-have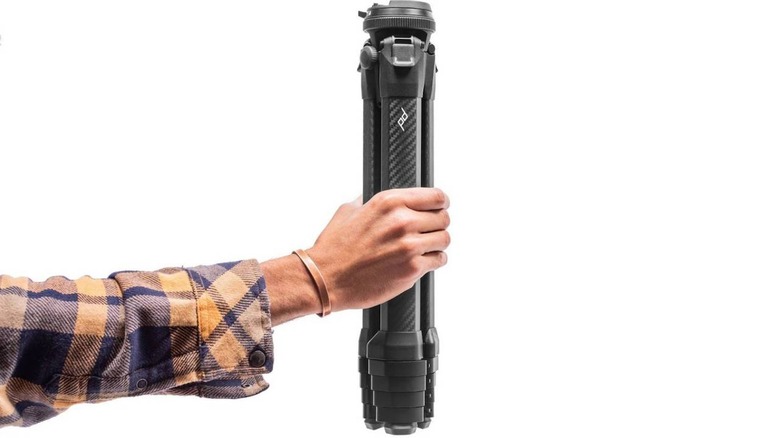 Peak Design has already built up a huge following in bags – now it wants to do the same with a new Travel Tripod. The photographers-favorite has seen no shortage of crowdfunding success with previous launches like the Everyday Pack and camera clips, and has now turned that attention to another must-have accessory.
That's the humble tripod, though the Peak Design Travel Tripod promises not to be all that humble. It attempts to straddle both the worlds of ultra-portable and prosumer photographer models.
So, rather than a trio of circular legs clustered around a circular central core, Peak Design has opted for a triangular core and three oval cross-section legs. That cuts down on wasted space.
Indeed the company says that, when folded up, the Travel Tripod occupies half the volume that other travel tripods demand. Small enough, in fact, to fit into a water bottle pocket on your bag. The five-section legs extend and lock into place with five cam levers, which can be opened simultaneously.
As for the head, that has a single adjustment ring that controls all of the articulation. Peak Design has used an aluminum ball and three portrait mode cutouts, together with a quick-release button. A lock dial clamps the whole thing down with one flick.
While it may be a small tripod, Peak Design says it can handle up to 20 pounds of weight. That means a full-frame DSLR with a 70-200 lens, should you have one in your bag. It'll extend up to 60-inches tall, and there's a counterweight hook underneath.
It's not the only surprise the company built in. A universal mobile phone mount is hidden in the center column: pull that out, and you can put your smartphone on top instead of your camera. An Inverted Mode flips the tripod for macro and product shots, while a Low Mode splays the legs out flat for a ground perspective.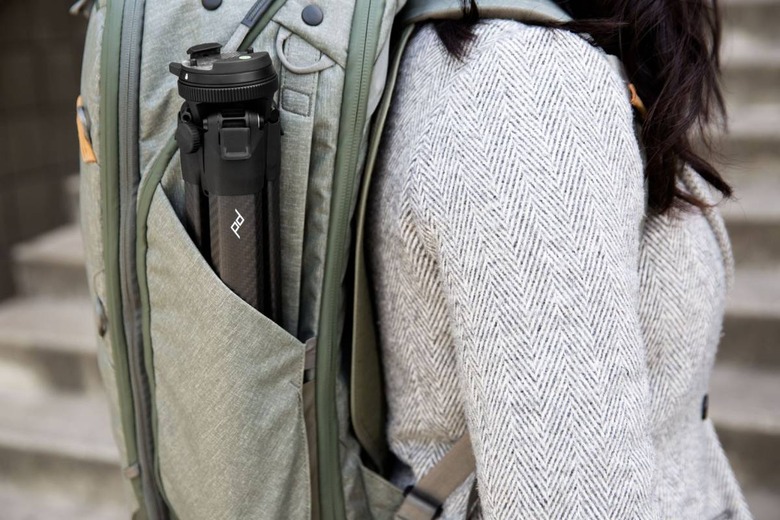 Peak Design says it created the Travel Tripod with third-party tripod plates and L-brackets in mind, and you'll be unsurprised to hear that it works with other Peak Design products like the Capture Camera Clip. A case is included, but it's weatherproof and impact-resistant, and comes with a lifetime guarantee. As standard it's made of aluminum, but there's a carbon fiber version that trims the weight from 3.44 pounds to 2.81 pounds.
As before, Peak Design has turned to Kickstarter to get the project off the ground. $289 gets an aluminum model; $479 gets a carbon fiber; after launch, their regular prices will be $349.95 and $599.95 respectively. The campaign runs until July 18, but as of writing is already more than three times past its original $500k goal. Assuming no hiccups, Peak Design says it expects to begin shipping the Travel Tripod in December of this year.