PayPal buys Paydiant, aims to challenge Apple, Google & Samsung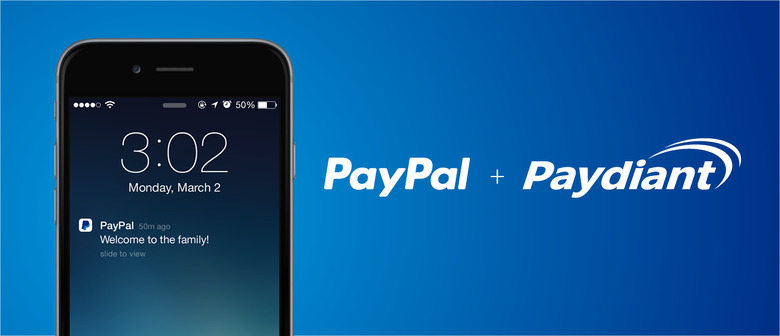 Today, PayPal is announcing their acquisition of Paydiant, a startup that produces mobile payment technology found in use with a variety of companies. Capital One and Subway are two notable clients, but one that might be more familiar to tech enthusiasts is CurrentC. Paydiant provides technology to Current C, the product of MCX, which is widely pointed to as the reason Apple Pay hasn't seen a wider rollout. Terms of PayPal's deal were not disclosed, but it looks like more than an intellectual property grab.
About 70 Paydiant employees will make their way to PayPal in the transaction, along with customer relationships (likely CurrentC) and the aforementioned technology. Re/Code is reporting the deal is worth $280 million, but PayPal has yet to confirm that figure.
As for the reasoning here, PayPal's head of their merchant division, Bill Ready, might have put it best. "We feel pretty confident that merchants and major retailers are going to want to control their own destiny in terms of what they accept" he said.
Rather than offer up a branded payment solution like Apple Pay, Samsung Pay or the Google Wallet/Android Pay duopoly from Google, PayPal simply wants to provide tech that allows for payments to be processed.
In providing no more than the back-end processing technology, merchants can brand their own solutions. Though it likely won't have the panache of Apple Pay or Google Wallet, it may allow merchants to keep a bit more of the total spend.
Source: PayPal