Pay for McDonald's with hugs and dance, says Super Bowl ad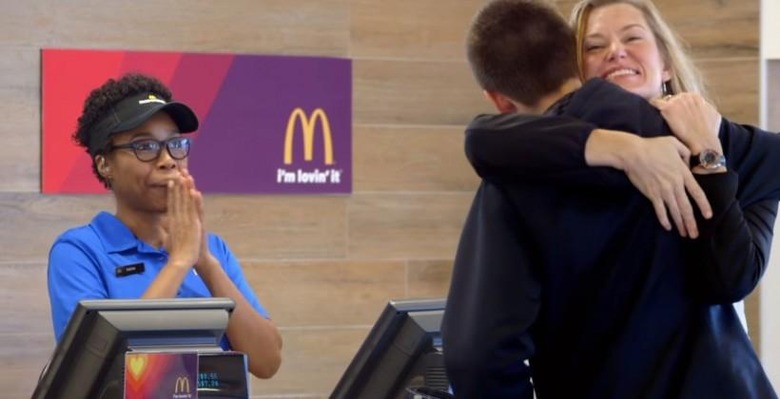 As the Super Bowl advertising blitz is about to descend upon us this Sunday, companies are eager to get as much value as possible from their 30 to 60-second ads, such as posting them early online for audiences to see before the big game. Well, McDonald's is really thinking outside the box with their attempt, as their Super Bowl commercial announces a near two-week period where the fast food chain will accept acts such as hugs, dancing, or a phone call to mom as payment from customers.
Don't get your hopes up too high just yet and think you can waltz in and pay for your Big Mac with any hugs or dancing of your choosing. As the Super Bowl advertisement mentions, customers will be randomly selected to take advantage of the offer, and there will only be 100 people chosen per store, between 6:00 am and 6:00 pm, over the duration of the campaign, which runs from Monday, February 2nd through Saturday, February 14th.
McDonald's calls the campaign its "Pay With Lovin' Instant Win Game," and the official rules are already posted on their website. Among the "acts of lovin'" that may be accepted include a fist bump to a store employee, a hug for a family member or other customer, calling a loved one on the phone, or even dancing in front of everyone present.
If these sort of antics sound appealing to you, make note that your best odds of being selected are on the first day of the campaign, Monday, Feb. 2nd. McDonald's rules page has a chart with a break down of how many winners out of 100 will be chosen per day. The first day will see 35 "acts of lovin'" payments, while the next two best days are Tuesday, Feb. 3rd and Saturday, Feb. 7th, with 20 and 10 winners selected, respectively. Regardless of which day you go, be sure to take someone you're willing to hug in exchange for some McNuggets.
VIA Mashable
SOURCE McDonald's