Patent investigators name Apple as next target; Garmin prior art found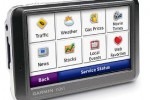 Apple's recent patent award for multitouch and gesture-based interfaces used in its iPhone and iPod touch ranges has flung patent law and prior art contests back into the headlines; now there's word that a so-called global community working to "legitimize the validity of patents", Article One Partners, have given a $50,000 prize fund to two researchers that turned up evidence potentially letting Garmin off the hook in a patent dispute of their own.  Article One have now launched seven more patent studies, each with cash jackpots, one of which addresses Apple's touchscreen IP.
The cash went to two researchers who identified prior art potentially affecting an SPT patent that Garmin have been accused of infringing.  The IP in question relates to a graphical interface offering a touchscreen keyboard: researchers discovered both an out-of-print 1998 textbook on Windows CE and a pending 1991 patent application assigned to MicroSlate Inc. which detail similar technology. 
Article One are now inviting Garmin to examine the evidence their researchers have turned up – which was all accessible in the public domain – and submit it to a US federal court or the US Patent Office, in the hope that the SPT patent is overturned.  The seven new patent investigations include Blu-ray IP which Sony is accused of infringing, emergency 911 location technology of which several US carriers have been accused of infringing, Apple's multitouch patent, and four drug company patents.
Press Release:
Article One Partners Announces First Winning Patent Study; Prior Art Found Relevant to a Patent Litigation Against Garmin nuvi Product Line

Global Community Awards $50,000 Payment in Close of First Winning Patent Validity Study; Seven New Patent Studies Posted

NEW YORK, Feb. 9 /PRNewswire/ — Article One Partners, LLC, a global community working to legitimize the validity of patents, today announced seven new patent studies, as well as two winners who will share the $50,000 prize for discovering prior art in Article One's Garmin/SP Technologies Patent Study. The Study relates to a graphical interface providing a touch screen keyboard display that may not be minimized, maximized, closed or deleted. In a 2008 complaint filed in federal court in Chicago, SP Technologies, LLC (SPT) accused Garmin Limited and Garmin International, Inc. of infringing SPT's patent. Garmin is a market leader in the portable navigation devices market.

SPT is the owner of U.S. Patent No. 6,784,873 B1. In its complaint, SPT accused Garmin of infringing the patent by the sale of Garmin's touch screen personal navigation devices "(such as the nuvi 260)." Garmin's nuvi product line is part of Garmin's auto/mobile segment. Garmin reported in its Nov. 5, 2008 10-Q that the auto/mobile segment generated $626.506M of the Company's $870.355M revenues (71.98%) in the third quarter of 2008 and that the "automotive/mobile segment revenue grew 27.3% from the year-ago period, on the strength of the nuvi series of personal navigation devices."

This litigation follows prior industry action from SPT involving this patent including infringement actions that have settled against Apple's iPhone and iPod Touch (settled May, 2008) and Magellan Navigation products (settled January, 2009), in addition to ongoing cases against Samsung Group, HTC Corporation and TomTom.

"We're thrilled to announce our first winning Patent Study, and to provide the $50,000 Reward compensation to our Advisors in less than three months after the launch of the company. Our Advisors were able to uncover what we believe is critical information related to IP disputes involving brands with the global resources of Apple and Samsung. Citizen review can have a powerful impact upon both validating the strength of legitimate patents, or as in this case with SPT and Garmin, showing an invention may have existed more than one year before the date of a patent that's being enforced in litigation impacting entire industries," said Cheryl Milone, founder of Article One Partners. "This first Patent Study result shows the power of global peer review when applied to patent reform, and we're excited to continue vetting the many hundreds of prior art submissions our Advisors have submitted in less than three months time."

The determination of winners was based on Article One's analysis, including review and analysis of outside counsel, leading Article One to reach the opinion that the prior art is invalidating because it teaches what is claimed in the subject patent U.S. Patent No. 6,784,873 B1. Article One believes that the claimed inventions would have been obvious to persons of ordinary skill in the relevant art at the time of the inventions. The Study was won by Article One community members, called Advisors, from the United States. Two Advisors submitted publicly available evidence, known as prior art, that predates the subject patent. The first prior art reference is a 1991 international (WIPO) publication of a pending patent application assigned to MicroSlate Inc.; and the second is an excerpt from an out-of-print 1998 textbook on a Microsoft Windows Operating system, Windows CE.

Importantly, only a U.S. federal court or the U.S. Patent Office can invalidate a U.S. patent. Article One is announcing only its own opinion based on its analysis of the prior art for purposes of determining winners to its Patent Studies. A court or the Patent Office may disagree with Article One's opinion. The prior art is listed in the announcement of the winning Patent Study and may be viewed on Article One's website.

The Article One community provides a powerful means for parties on both sides of an intellectual property dispute to better delineate the scope of an invention early in the development process and before litigation. Harnessing a global community of prior art researchers can pinpoint the patentable features and create the strongest patent rights.

"Today's winning Patent Study speaks to the quality of our Advisor community and power of the peer-review approach to patent reform," continued Cheryl Milone. "Garmin and others involved in current litigation can consider the prior art uncovered by Article One's Advisors. Before any party initiates, responds to or settles a lawsuit, the Article One community is a resource that can help zero in on the core issues of patent validity."

License Access to the Collection of Relevant Prior Art Uncovered in Garmin/SPT Study

The winning references are the primary prior art relied upon for Article One's opinion. In addition, there were highly relevant additional prior art references submitted. Parties interested in licensing access to the collection of relevant prior art should contact Article One directly.

Announcing Seven New Patent Studies

Article One Partners also announced today that seven new patent studies have been posted to the site for Advisors to review (including a Study on the Apple multi-touch patent). The selection of Patent Studies is driven by litigation, questions and/or dispute surrounding patent validity. The new Studies posted for community review include patents related to the following technologies:

– Sony (alleged infringer) Blue-Ray disc drives technology (Sony is

accused of patent infringement)

– Apple's (patent owner) iPhone multi-touch technology

– Emergency 911 location technology for mobile phone industry, including

Verizon, AT&T, etc. (alleged infringers)

– Eli Lilly's (patent owner) Cymbalta drug

– AstraZeneca's (patent owner) Crestor drug

– Penwest Pharmaceuticals (patent owner) Opana ER drug

– Sepracor's (patent owner) Xyzal drug

Read details in the full Patent Studies online at www.articleonepartners.com

About Article One Partners

Article One Partners is a global online community. Community members – who Article One calls Advisors – have an opportunity to send in previously undisclosed evidence of patent validity. By tapping the unique knowledge and referral networks of our Advisors, this evidence known as prior art can be discovered. Prior art may come from published content anywhere in the world and in any language, including: previous patents; news or academic publications; non-digitized documents such as textbooks; or any public document provided to others, including conference or academic papers and business materials. Article One analyzes the prior art to determine whether it can show patents to be legitimized or invalid. If Article One forms an opinion that patents are invalid, Advisors earn up to $50,000. Advisors who actively build the community also earn premium compensation in a Profit Sharing Plan, distributing approximately five percent (5%) of Article One's net annual profit. Article One's business model contemplates two streams of revenue: access to our prior art collections can be licensed directly to parties interested in the subject patent(s); and we execute market trades informed by the expert analysis and opinions drawn from our Advisors' research. If these revenue streams permit Article One to prosper, our Advisors will prosper with us. The result is a highly-rewarded community providing a second, citizen's review of U.S. patents to justify monopoly pricing for true innovation and energize U.S. patent reform. To learn more about Article One Partners, or to become a member of our community, please visit www.ArticleOnePartners.com .

Article One Partners and AOP are service marks of Article One Partners, LLC. All other product and company names are the trademarks and property of their respective owners.