Patent App For Apple Inductive Charger Surfaces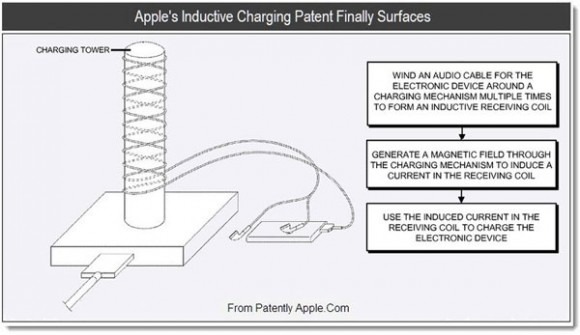 Last month we heard that the iPhone next year could get inductive charging. The patent app for an inductive charger has now surfaced that was field by Apple. The app was published today apparently and shows different methods of inductive charging that Apple might take. The first one is an odd tower that appears to charge by wrapping the headphone cables around it.
The second charging method is more like the other inductive chargers that we have seen in the past with and acoustic charging mechanism and no charging tower. The second charger would be able to charge all sorts of devices. It would be great to sit your iPad and iPhone down and have them charge automatically with no wires.
Another illustration in the application shows the charging via a metal mesh in the earphones. The acoustic charger would use acoustic output to charge a device by causing part of the earphones to vibrate and create energy. The vibrations would not be in the range of hearing so the device would appear silent. All three methods are interesting, but I like just setting the device down on a charge plate better than all of them.
[via Patently Apple]