Parrot Zikmu Solo Review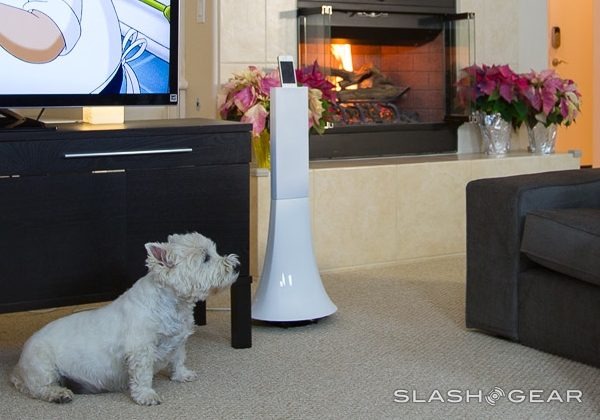 We've had our hands on pair of Parrot Zikmu speakers before – back in October of 2010 when they were just offered as a massive multi-colored pair. Here near the end of 2012 we're taking a peek at the newest unit offered up from the same team: the Parrot Zikmu Solo. This time around, Parrot presents a speaker with futuristic connectivity and a love for singularity.
With the Zikmu Solo, as it was with the original Zikmu, you've got what's first a monstrous iPhone dock, then set of connections that's ready to rock for the future. This device is built for the 30-pin generations of iOS devices including everything from the iPhone 3Gs to the iPhone 4S, iPod nano (every generation between 2 and 6,) iPod classic, and iPod touch 4th, 5th, and 6th generation.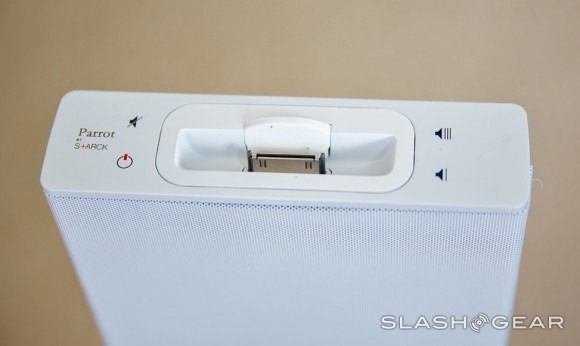 You also have Bluetooth connectivity for basically every modern smart device as well as instant connectivity with NFC. The folks at Parrot assure us that every NFC-carrying Android device using Android 4.1 and above will be able to connect instantly with the NFC sensor placed at the top of the Zikmu Solo – instant splendor! You can also connect to the unit with Wi-fi synchronization with WPS – this way you'll be able to access and play music from one computer with another computer blasted out of your Zikmu, no sweat! This speaker also works with UPnP, DLNA, and Samba – there's basically no modern wireless speaker connectivity technology that doesn't work here, when it comes down to it.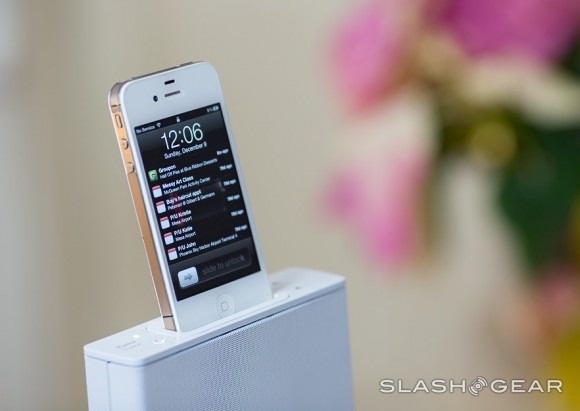 Under the hood then you'll find that you've got 2 x 20W side HARP (high aspect ratio panel) drivers between 350Hz and 20KHz, a center speaker that got a 1 x 20W BMR (balanced modal radiator) driver between 350Hz and 20KHz, and under the bottom of the beast you've got a 40W Woofer. That woofer, for those of you interested in the wee specifics, is a 6-inch 40W neodymium unit working between 50Hz and 350Hz, and audio restitution hits between 30Hz and 20kHz on the regular.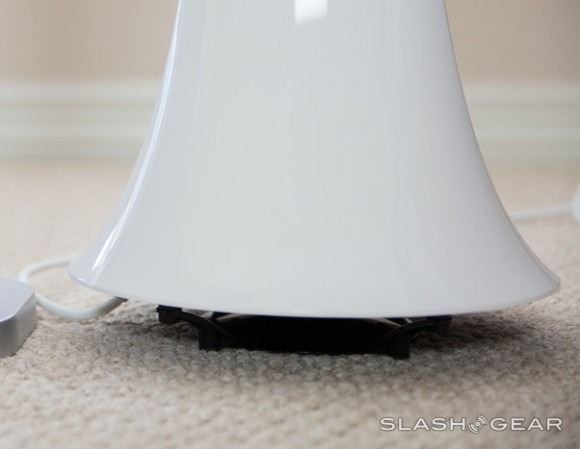 Audio power for this beast on the whole is 100W RMS output with a Class D amplifier for digital sound – "pure" digital sound, of course. And that it is – pure as the driven snow working with AAC, MP3, LPCM and WMA file types natively with software updates coming in via wi-fi and ethernet. The ethernet port that makes this update magic (and the web-based audio connectivity magic) happen sits on the bottom side of the unit as well.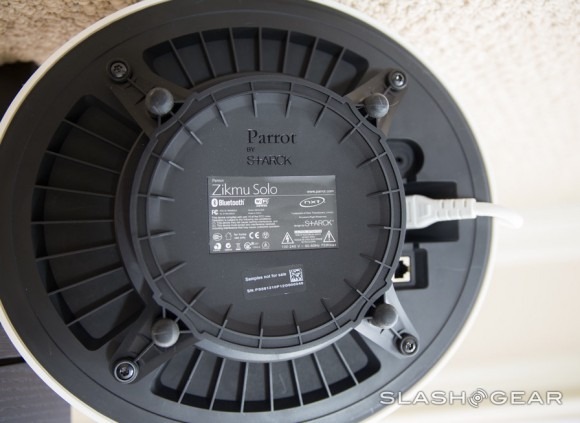 Down at the bottom end you've also got a combined input socket that works with analog line-in as well as digital optical – 24 bit sound for your ears to explode by. Your analog line-in action will be used mainly for hi-fi channels and your everyday average television sound-out connections. In the box you get the speaker itself, a remote control, an AC power cord, one optical Toslink adapter / 3.5-inch jack, and a few "universal" dock adapters that work for the iPhone 4S, iPhone 4, and iPhone 3GS.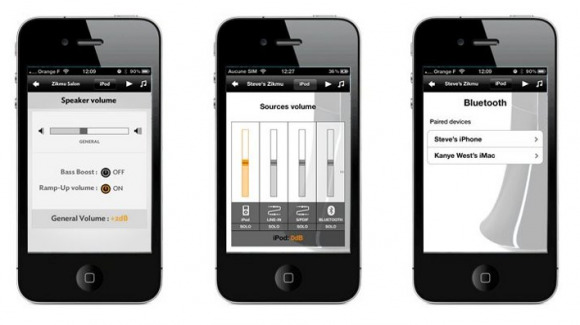 There's also a unique Parrot Audio Suite app that works with iOS devices at the moment (with Android coming soon) that allows you to change the Room Size and Position for automatic settings based on both – this speaker is smart! This app also has an equalizer that works as directly with the speaker's sound settings as possible and has a set of pre-set modes. You can of course change the source volume from this app, work with Bluetooth and wider volume management, and name your speaker – a must!
This unit is a masterpiece of iPhone dock greatness, that's for certain. If you're not an iPhone or iPod owner working with a unit thats got a 30-pin connector under the bottom, you might want to wait for a Parrot Zikmu either devoid of a dock at the top or one that also has the ability to cradle any smartphone, not just one made by Apple. That said, if you're not worried about the tiny element that is the look of the top of the speaker, this speaker is a great, great unit.
The Parrot Zikmu Solo is set for a MSRP 999 USD pricetag and will be out immediately if now soon – have a peek and see where you can grab it! And be sure to be aware that you can get it in black or white – or get one of each!