Parrot RKi8400 head-unit with iPhone support and Bluetooth A2DP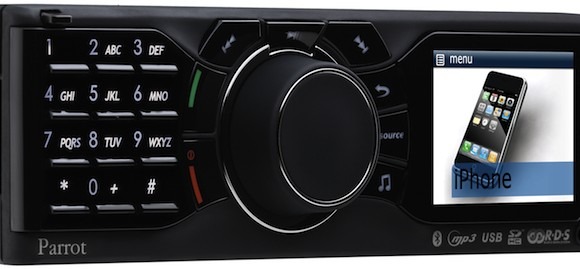 Parrot have announced their latest head-unit, the iPhone-compatible RKi8400, which eschews a dull old CD player for Bluetooth A2DP streaming, an SD card slot, iPod/iPhone connectivity, USB PMP support and standard line-in ports.  It also works as a Bluetooth hands-free kit, with the Parrot RKi8400 having a 2.4-inch color LCD display text-to-speech support and a 7-band equalizer.
That means you have a pretty broad range of options when it comes to getting music off your PMP of choice and through your car's speakers.  The RKi8400 offers a 4x50W MOSFET amplifier for driving those speakers, together with an external double-microphone with noise- and echo-cancellation, supporting full duplex conversation.  You can pair with up to ten phones, and sync their contacts over to the head-unit for easy dialling.
There'a also an AM/FM tuner, rotary controller and numeric keypad, and since there's no bulky CD player to accommodate the front panel clips off to reveal a nook where you can leave your iPhone while it's connected.  No word on pricing as yet; Parrot's affiliate account with Expansys isn't even showing a record for the RKi8400.